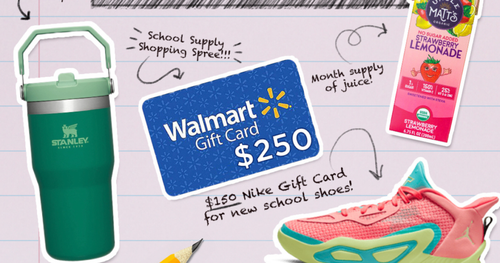 Uncle Matt's Back to School Giveaway
Back to school season is just around the corner, and Uncle Matt's is here to make it even more exciting with our amazing Back to School Giveaway! We believe that starting the new school year on a high note is crucial for every student, and that's why we've put together an incredible prize package that will make your back to school experience even better.
By entering our Back to School Giveaway, you stand a chance to win some fantastic prizes. Picture this: you could be the lucky winner of a $250 Walmart Gift Card, giving you the opportunity to stock up on essential school supplies, new clothes, or even some much-deserved treats. Need some new kicks for the upcoming school year? How about a $150 Nike Gift Card to help you find the perfect pair of sneakers that will make you the envy of all your friends on the first day of school?
But that's not all! We've also included a Stanley tumbler in our prize package. Stay hydrated throughout the day with this stylish and durable tumbler that will keep your drinks hot or cold for hours. And because we're all about providing you with the best, we've included an Uncle Matt's prize pack, filled with a variety of our delicious and nutritious organic juices. You'll have the perfect refreshments to keep you energized and focused during those long study sessions.
To add an extra special touch to our giveaway, we're including a signed copy of Katherine Pryor's Spring is for Strawberries book. This beautifully illustrated book will transport you to a world of adventure and discovery, making your leisure time even more enjoyable.
Now that we've got your attention, let's discuss how you can enter the Uncle Matt's Back to School Giveaway. We want to make it as easy as possible for you to participate and increase your chances of winning these incredible prizes. That's why we're allowing multiple entries! The more times you enter, the higher your chances are of becoming our lucky winner.
So, how can you enter? It's simple! Just visit our website and fill out the registration form. Provide us with your name, email address, and a few other details, and you'll be officially entered into the giveaway. Remember, the more entries you submit, the more likely you are to win, so take advantage of the opportunity and increase your odds!
Don't miss out on this amazing opportunity to kick-start your back to school season in style. Imagine the smiles on your face as you shop with your Walmart and Nike gift cards, sip from your Stanley tumbler, enjoy the goodness of Uncle Matt's organic juices, and immerse yourself in the captivating world of Katherine Pryor's book.
To enter the Uncle Matt's Back to School Giveaway, visit our website now and register for a chance to win these incredible prizes. Make the upcoming school year unforgettable with our Back to School Giveaway!
Note: Dates and the link to register are not included in this blog post.
Claim this great opportunity today.