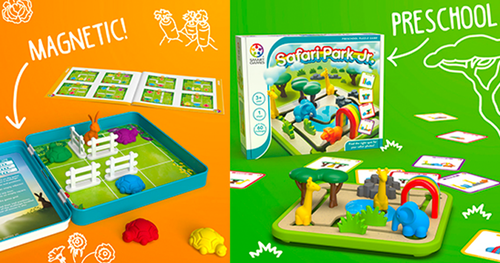 Title: Apply to Host a SmartGames Early Learning Games Party with Tryazon
Are you ready to level up your child's playtime with fun and educational games? Look no further than SmartGames! If you're a parent who believes in the power of play to spark curiosity and enhance learning, we have an exciting opportunity for you.
Tryazon, in partnership with SmartGames, is looking for 100 enthusiastic individuals to host an exclusive SmartGames Early Learning Games Party. This incredible offer not only allows you to bring joy to your little ones but also offers the chance to connect with other like-minded parents and caregivers.
Imagine the laughter and excitement as your children dive into a world full of interactive and brain-teasing games, specifically designed to boost their cognitive skills and problem-solving abilities. SmartGames offers a range of innovative and challenging puzzles that are suitable for children of all ages, making learning both entertaining and rewarding.
Should you be one of the lucky ones selected, you will receive a fantastic party pack valued at $60+! This pack includes popular titles such as Dress Code, Turtle Tactics, and Safari Park Jr. With such diverse game options, there's something for every child to enjoy. Additionally, you'll also receive a comprehensive Party Host Guide, designed to ensure that your event is a resounding success.
But what makes hosting a SmartGames Early Learning Games Party with Tryazon so special? It's more than just a playdate – it's an opportunity to foster a love of learning while having an absolute blast! Watch as your child's critical thinking skills and creativity soar, all while forming lasting connections with friends and family.
Encourage your little ones to challenge themselves, think outside the box, and develop essential problem-solving abilities. SmartGames not only entertains but also provides a platform for growth, development, and skill-building.
So, how can you be a part of this amazing experience? Don't miss out on your chance to host a SmartGames Early Learning Games Party with Tryazon! Simply apply for this one-of-a-kind opportunity before August 19th, 2023. Whether you're a parent, grandparent, or educator, this is your chance to create a memorable experience for the children in your life.
To register and apply as a host, visit our website or follow us on social media for more updates and information. Be sure to act fast as spaces are limited!
Get ready to embark on an adventure filled with laughter, exploration, and educational fun. Apply today and discover firsthand the wonders of SmartGames Early Learning Games Party with Tryazon – an experience your children won't want to miss!
Note: For all event-related information, please visit our official website or connect with us on social media.
Claim this great opportunity today.