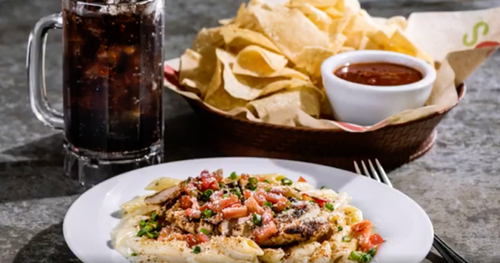 Title: Discover the Irresistible Taste of Chili's 3 for Me Meal – Get Yours for FREE Today!
Attention, Chili's enthusiasts! If you're a fan of delicious, wholesome meals, then we have fantastic news for you. Chili's is generously offering 1,000 lucky individuals the chance to indulge in their delectable 3 for Me Meal entirely free of charge! Brace yourself for a culinary experience that outshines any fast food combo you've ever had. So, without further ado, let's dive into why Chili's 3 for Me Meal is an absolute game-changer!
At Chili's, they believe in making every dining experience unforgettable. Whether you're craving mouthwatering burgers, sizzling fajitas, zesty appetizers, or tantalizing desserts, they have something to satisfy every palate. With their 3 for Me Meal, you can explore a combination of three mouthwatering options from their extensive menu, providing you with the ultimate customized feast!
Imagine the excitement of picking your favorite appetizer, entrée, and dessert, knowing that all three will be prepared to perfection. Unlike traditional fast food combos that often leave you wanting more, Chili's 3 for Me Meal lets you savor the flavors you love in generous portions. With each bite, you'll discover the exceptional quality and attention to detail that makes Chili's stand out from the rest.
What truly sets Chili's apart is their commitment to using the freshest ingredients and handcrafted recipes. Indulge in their signature Baby Back Ribs, cooked to perfection and slathered in mouthwatering barbecue sauce. Or perhaps sink your teeth into their famous Big Mouth Burgers, bursting with juicy flavors and a variety of delicious toppings. And let's not forget their heavenly desserts, like the Molten Chocolate Cake or the classic Skillet Chocolate Chip Cookie. Every bite will transport you to a state of pure culinary bliss!
But what makes this promotion even more enticing is the opportunity to win a FREE Chili's 3 for Me Meal simply by participating on Twitter! All you have to do is head over to the official Chili's Twitter account and let them know why Chili's 3 for Me is a cut above fast food combos. Be sure to include the hashtag #3ForMeRescue in your tweet, so they can find and reward your culinary enthusiasm!
By entering this promotion, you're not only treating yourself to a delectable meal but also becoming a part of the Chili's community. Share your love for their mouthwatering cuisine with others and inspire them to take part in this incredible offer. There's no better feeling than indulging in a fantastic meal alongside fellow food lovers!
Don't miss this opportunity to have your taste buds tingling with delight. Register now and unleash your culinary imagination with Chili's 3 for Me Meal! Remember to visit their Twitter account and participate by tweeting your appreciation for their flavorful fare. Get ready to experience a meal that will elevate your love for good food to new heights. Happy eating!
[Include the link to register here]
Claim this great opportunity today.