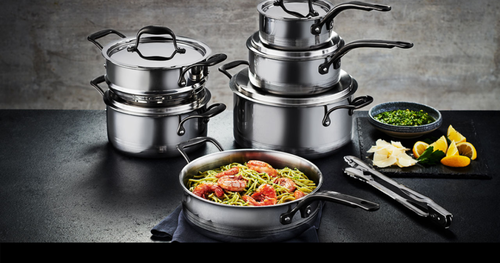 Title: House & Home | Where We Ate + Lagostina Giveaway
As we delve into the heart of our homes, we realize that the kitchen is more than just a space where meals are prepared. It is where memories are created, where stories are shared, and where bonds are strengthened. At House & Home, we understand the significance of a well-loved kitchen, and we want to celebrate it with you through our exclusive Where We Ate + Lagostina Giveaway!
There's nothing quite like the aroma of a homemade meal wafting through the house, the sound of laughter echoing as loved ones gather around the dining table. Whether it's a Sunday brunch with the family, a cozy dinner date, or a fun-filled evening with friends, the kitchen is where it all happens. At House & Home, we believe that your kitchen should be a reflection of your personal style and a source of inspiration for your culinary adventures.
To celebrate the heart of the home, we've partnered with Lagostina, one of the finest kitchenware brands known for its exceptional craftsmanship and innovative designs. Together, we're giving you the opportunity to elevate your cooking experience with a chance to win an incredible Lagostina Cookware Set!
Imagine yourself effortlessly sautéing, braising, and simmering in style; every piece of this cookware set is meticulously crafted to enhance your skills in the kitchen. From durable stainless steel pans to elegant Dutch ovens, Lagostina knows how to make your cooking dreams come true. This is your chance to not only upgrade your kitchen arsenal but also elevate your cooking to new heights.
Participating in the House & Home | Where We Ate + Lagostina Giveaway is as easy as pie. All you need to do is register for our exclusive giveaway by filling out a simple form. Once you're registered, you'll be entered into the running to win this fabulous cookware set, valued at [insert value]. It's our way of thanking you for being a part of our House & Home community.
But wait, there's more! As a bonus, we'll also send you our coveted House & Home digital recipe book filled with mouthwatering dishes that are easy to whip up and perfect for sharing with loved ones. From classic comfort food to exotic flavors, this recipe book will become your go-to guide for creating unforgettable meals.
We know that the kitchen holds a special place in your heart, just as it does in ours. So don't miss out on this once-in-a-lifetime opportunity to upgrade your cooking experience and infuse your kitchen with the beauty and functionality of Lagostina cookware.
To register for the House & Home | Where We Ate + Lagostina Giveaway, simply click the link below and fill out the form. Let's celebrate the joy of cooking and the love that brings us together in the heart of our homes.
Click here to register and enter the giveaway!
The House & Home team is excited to be a part of your culinary journey, and we can't wait to see the magic you create in your kitchen with your brand new Lagostina Cookware Set. Register now and get ready to embark on a new level of cooking excellence!
Please note that this giveaway is only available to residents of [specific region]. Terms and conditions apply.
Happy cooking and good luck!
[End of blog post]
Claim this great opportunity today.