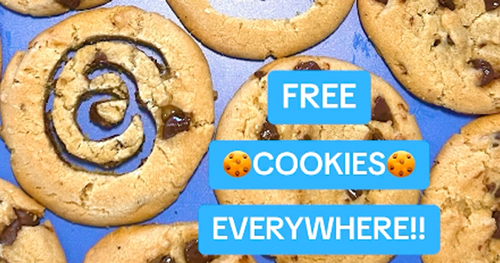 Title: Get Your Free Dozen Cookies from Tiff's Treats Today!
Are you craving some deliciously warm and freshly baked cookies? Well, you're in luck because Tiff's Treats is giving away FREE dozens of cookies today! That's right, all you have to do is keep an eye out for codes on Tiff's Treats' social media channels and be quick to claim your sweet treat!
Tiff's Treats is famous for their mouthwatering cookies that are baked fresh daily and delivered warm to your doorstep. Whether you're a chocolate chip lover, a fan of snickerdoodles, or enjoy a classic sugar cookie – Tiff's Treats has something for everyone!
To participate in this exciting promotion, all you need to do is follow a few simple steps. First, make sure to stay connected with Tiff's Treats on their social media channels: Facebook, Instagram, Twitter, and TikTok. These are the platforms where the FREE dozen cookie codes will be randomly posted throughout the day.
Once you are connected with Tiff's Treats on social media, keep a close eye on their posts and stories. They will announce when the codes are live, so be ready to act fast! Remember, these codes will have limited availability, so it's important to be quick if you want to claim your free cookies.
If you are lucky enough to spot a code, make sure to copy it down or take a screenshot of it. You will need to use this code to register and claim your free dozen cookies. The registration process will be seamless and simple, allowing you to enter your details and code, ensuring a smooth and hassle-free experience.
Once you have registered with the code, all you have to do is sit back and wait for your cookies to arrive. Tiff's Treats takes pride in their efficient delivery service, ensuring that your cookies are delivered fresh and warm for you to enjoy immediately. It's like having your own personal cookie bakery at your fingertips!
This promotion provides a fantastic opportunity to experience the scrumptious goodness of Tiff's Treats completely free of charge! Not only will you be indulging in their legendary cookies, but you will also get a taste of their exceptional customer service.
So, don't miss out on the chance to savor a FREE dozen cookies from Tiff's Treats. Remember to follow Tiff's Treats on Facebook, Instagram, Twitter, and TikTok to stay up to date with the latest codes. Keep your eyes peeled and be the first to claim your delectable treat!
What are you waiting for? Get ready to treat yourself to a dozen mouthwatering cookies from Tiff's Treats. Be sure to participate in this amazing promotion and register with the code to get your hands on these irresistible goodies. Start following Tiff's Treats' social media channels right away and keep an eye out for those codes! Happy indulging!
Claim this great opportunity today.