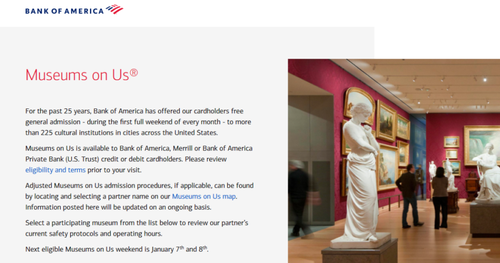 Title: Explore the Cultural Treasures for Free – Bank of America's Exclusive Offer!
Introduction:
Immerse yourself in the enriching world of art, history, and culture without spending a dime! Bank of America proudly presents a remarkable opportunity for all culture enthusiasts and history buffs. Offering free general admission to over 225 prestigious museums and cultural institutions across the United States, this exclusive promotion is sure to captivate your senses and expand your horizons. Get ready for an extraordinary journey through time and creativity!
Discover Extraordinary Exhibits:
Unleash your curiosity and embark on an unforgettable adventure as you explore a world of captivating exhibits, galleries, and collections. Museums are not just a repository of culture but a vibrant tapestry that connects us to our shared heritage. With Bank of America's free admission offer, you have the chance to wander through museums that house incredible works of art, historical artifacts, scientific marvels, and so much more.
From the legendary corridors of the Metropolitan Museum of Art in New York City to the enlightening halls of the National Gallery of Art in Washington, D.C., you can uncover the astonishing creations of renowned artists like Monet, Van Gogh, and Warhol. Trace the footsteps of history at museums like the Smithsonian National Museum of American History or the Field Museum in Chicago. Marvel at the wonders of science in institutions such as the California Academy of Sciences or the Museum of Science in Boston. Whatever your interests, the possibilities are endless!
A Weekend to Remember:
Mark your calendars for the first full weekend of every month, as this extraordinary offer is valid then. Relish the opportunity to awaken your senses, ignite your imagination, and stir your intellectual curiosity with the incredible range of participating museums and cultural institutions. Each month, a new adventure awaits, making every visit a one-of-a-kind experience that will leave an indelible mark on your soul.
Bank of America's Exclusive Privilege:
To take advantage of this incredible promotion, simply be a Bank of America, Merrill, or Bank of America Private Bank (U.S. Trust) credit or debit cardholder. As a valued member of the Bank of America family, you will enjoy free general admission to the participating museums across the nation. This exceptional benefit demonstrates Bank of America's commitment to supporting arts and culture in our communities. So grab your Bank of America card and get ready to explore the cultural riches that await!
Register Now!:
Ready to embark on a journey of discovery? Don't miss this chance to experience the breathtaking world of art and history, completely free of charge. Unlock a treasure trove of cultural wonders by simply registering for this extraordinary Bank of America offer. Expand your horizons, inspire your creativity, and indulge your passions by immersing yourself in the vibrant tapestry of human achievement.
If you hold a Bank of America, Merrill, or Bank of America Private Bank (U.S. Trust) credit or debit card, this is your opportunity to enjoy free general admission to over 225 cultural institutions nationwide. Don't miss out on experiencing cultural and historical wonders that will leave a lasting impression. Register now and begin your extraordinary journey!
Note: Dates and registration link will be added separately.
Claim this great opportunity today.