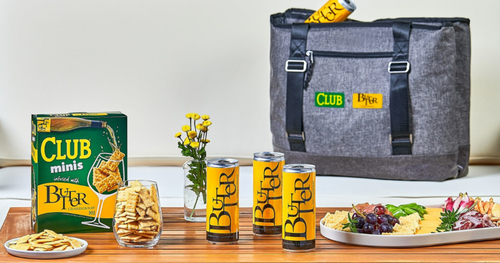 The Perfect Getaway: Kellogg's Butter Club Getaway Sweepstakes
Imagine yourself indulging in a buttery escape, surrounded by breathtaking views, delectable cuisine, and luxurious accommodations. Sounds like a dream, right? Well, Kellogg's is here to make that dream a reality with the Butter Club Getaway Sweepstakes!
If you're a fan of buttery goodness, then you're in for a treat. Kellogg's Butter Club is bringing you the chance to win the vacation of a lifetime. Picture yourself basking in the warm sun on a pristine beach, sipping on your favorite cocktail while enjoying a plate of mouthwatering food made with—you guessed it—butter!
What's even better? The sweepstakes is open to all butter enthusiasts, whether you're a seasoned baker or simply someone who can't resist spreading butter on every bite. Kellogg's Butter Club Getaway Sweepstakes is designed to reward those who appreciate the rich, creamy, and smooth taste of butter.
So, how can you enter this indulgent giveaway? It's simple! Just head over to the Kellogg's Butter Club website and fill out the registration form. Once you are registered, you will automatically be entered for a chance to win the ultimate butter lover's getaway.
Butter Club members will receive exclusive perks and benefits, including access to new butter recipes, discounts on butter-related products, and early access to future promotions. Plus, by joining the Butter Club, you become part of a community of butter enthusiasts who share the same passion for all things buttery.
Now, let's talk about the prize itself. The lucky winner will enjoy a blissful week-long vacation at a luxurious butter-themed resort. From butter-infused spa treatments to gourmet butter tastings, every aspect of this getaway is dedicated to celebrating the golden goodness.
Start your mornings with a buttery breakfast spread fit for royalty. Indulge in croissants, pancakes, and scones—all topped with generous amounts of creamy, golden butter. Throughout the day, explore the resort's endless butter-themed activities, such as butter sculpting classes, butter tastings, and even a butter-making workshop.
As the sun begins to set, dine in style at the resort's exquisite butter-centric restaurant. Savor dishes prepared by world-renowned chefs who truly know how to elevate the flavors of butter. From savory dishes to delectable desserts, every bite will transport you to butter heaven.
And don't worry, you'll have plenty of opportunities to relax and soak up the sun. Lounge by the pool, take a stroll along the buttery soft sandy beach, or unwind with a butter-inspired cocktail at the resort's beachfront bar. This getaway is all about indulgence, relaxation, and pure buttery bliss.
So, what are you waiting for? Register now for a chance to win the Kellogg's Butter Club Getaway Sweepstakes. Escape to a world where butter reigns supreme, and indulge in a vacation that will leave you with memories to last a lifetime.
Join the Butter Club today and unlock a world of buttery delights. Whether you're a devoted butter enthusiast or simply curious to explore the wonders of butter, there's no better time to join than now. The Kellogg's Butter Club Getaway Sweepstakes is your golden ticket to the ultimate butter lover's dream vacation. Register now and get ready to be whisked away to a world of buttery indulgence!
Register for the Kellogg's Butter Club Getaway Sweepstakes today and let the buttery adventure begin!
Claim this great opportunity today.