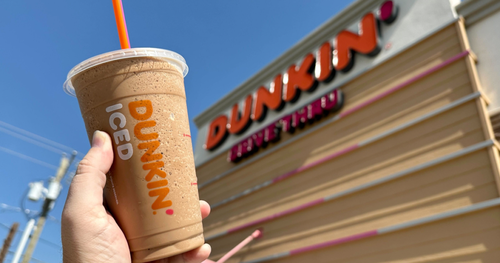 Title: Get Your Taste Buds Tingling with a Free Iced Coffee at Dunkin' Donuts!
Introduction:
If you're anything like me, the mere mention of an iced coffee can make your taste buds jump with joy. Well, fellow coffee enthusiasts, I have some fantastic news for you! Dunkin' Donuts is offering a mouthwatering deal that you simply cannot resist. For a limited time, you can enjoy a refreshing FREE iced coffee when you use the code "BANANAS" on the Dunkin' Donuts app. So, brace yourself for an irresistible treat, and let me tempt you further by sharing all the reasons why you should sign up for this promotion right away.
Unparalleled Quality and Variety:
Dunkin' Donuts has been a leading name in the coffee industry for decades, and there's a good reason for that! Their commitment to delivering high-quality coffee consistently is truly commendable. Each iced coffee is expertly brewed, ensuring a perfect balance of flavors that will leave you craving for more. Whether you prefer a classic brew or like to indulge in a flavored creation like mocha or caramel, Dunkin' Donuts has a fantastic array of options to satiate every palate.
Convenience at Your Fingertips:
In this fast-paced world, convenience is often paramount, and Dunkin' Donuts understands that. With their user-friendly mobile app, you can easily place orders, customize your favorite beverages, and even locate the nearest store. The app is your gateway to a seamless Dunkin' Donuts experience, allowing you to save time and enjoy your free iced coffee without any hassle.
Share the Joy with Friends and Family:
A free iced coffee is not only a treat for yourself but also an opportunity to spread the love among your friends and family. Imagine surprising your loved ones with a refreshing iced coffee on a scorching summer day! Indulging in your favorite drink and having a relaxed chat with your loved ones has never been easier. So, don't forget to take advantage of this promotion and make someone's day brighter with a free cup of Dunkin' Donuts' delightful iced coffee.
Fuel Your Workday:
Are you tired of the mid-afternoon slump? We all know that dreaded feeling when energy levels dip and concentration wanes. Well, a free iced coffee from Dunkin' Donuts might just be the solution you need. Revitalize your workday with a flavorful boost and feel the productivity soaring. Whether you enjoy it as a midday treat or a trusty companion for those late-night deadlines, Dunkin' Donuts' iced coffee will keep you energized and focused.
Conclusion:
Attention coffee lovers! This is your opportunity to enjoy a fantastic treat from Dunkin' Donuts. Don't miss out on your chance to savor a FREE iced coffee by simply using the code "BANANAS" on the Dunkin' Donuts app. With a wide range of flavors and unbeatable convenience, this offer is an absolute steal. So, what are you waiting for? Grab your phone, download the app, and redeem your free iced coffee today. Hurry, this promotion won't last forever!
Note: To register for this promotion, please visit the provided link and follow the instructions on the Dunkin' Donuts app. Happy sipping!
Claim this great opportunity today.