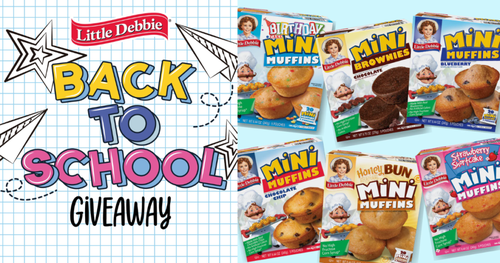 Title: Little Debbie Back To School Giveaway: Sending Your Kids Off in Style!
Intro:
As summer draws to a close and the excitement of a new school year begins, it's time to start thinking about refreshing your kids' lunchboxes with delicious and wholesome snacks. And what better way to do that than by participating in the Little Debbie Back To School Giveaway! We are thrilled to bring you this exciting opportunity to win fabulous prizes that will have your little ones heading back to school in style.
Healthy and Tasty Snacks:
At Little Debbie, we understand the importance of providing snacks that are not only tasty but also nourishing for growing minds and bodies. With our wide range of carefully crafted treats, we've got you covered! From our classic Swiss Rolls and Nutty Bars to our newer favorites like Cosmic Brownies and Zebra Cakes, there's something for everyone in our lineup.
Back To School Prizes:
Now, let's talk about the exciting part – the prizes! By entering the Little Debbie Back To School Giveaway, you stand a chance to win a selection of amazing items that will make your kids' return to the classroom an unforgettable experience. Picture them rocking a brand new backpack, packed with all the supplies they need for a successful academic journey. From trendy lunchboxes to colorful stationary sets, we've handpicked these prizes to ensure they make a lasting impression.
Engaging Online Activities:
Participating in this giveaway couldn't be easier. All you need to do is visit our website and register today – it's that simple! Once you're signed up, you'll not only be in the running to win fantastic prizes, but you'll also gain access to a host of engaging online activities designed to keep your kids entertained and excited about the upcoming school year. From learning games to arts and crafts ideas, our online platform will become their favorite virtual destination.
Community and Sharing:
The Little Debbie Back To School Giveaway is all about bringing families together and creating a sense of community. We encourage all participants to share their excitement on social media using the hashtag #LittleDebbieBackToSchool. Connect with other parents, exchange tips and stories, and inspire one another to make this back-to-school season a memorable one. Join our community and let's celebrate the joy of learning, growing, and snacking together!
Conclusion:
As we gear up for another school year, Little Debbie wants to lend a helping hand in ensuring your kids have an incredible and delicious experience every time they open their lunchboxes. With our delectable range of snacks and the exciting Back To School Giveaway, we strive to make this season a memorable one for you and your family.
So, what are you waiting for? Head over to our website and register for the Little Debbie Back To School Giveaway today. Get ready to win amazing prizes, explore interactive online activities, and become a part of our vibrant community. Trust us, this is one promotion you don't want to miss!
Remember, the best way to prepare your little ones for a successful school year is with snacks that are not only tasty but also offer a little touch of home in every bite. Little Debbie – making memories one school day at a time. Register now and give your kids the Back To School experience they deserve!
Claim this great opportunity today.