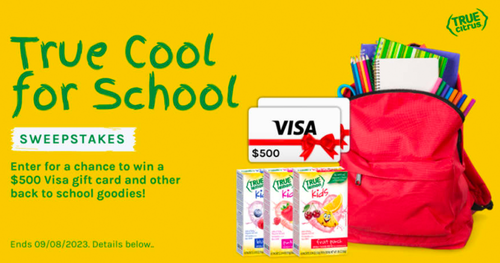 Title: True Cool for School Sweepstakes – Make Back-to-School Shopping a Breeze!
Introduction:
It's that time of year again! The back-to-school season is upon us, and as parents and students gear up for a new academic year, wouldn't it be great to have a chance to win amazing prizes that make the transition even more exciting? Look no further than the True Cool for School Sweepstakes! In this blog, we'll tell you all about this incredible opportunity and how you can join in the fun.
Unlock the Ultimate Back-to-School Experience:
Imagine being able to check off every item on your back-to-school shopping list without breaking a sweat. With the True Cool for School Sweepstakes, that dream could become a reality! We've partnered with leading brands and retailers to bring you an array of fantastic prizes that will help you kickstart the school year in style.
Prize Highlights:
1. Take your study sessions to the next level with a brand new laptop that's perfect for both work and play.
2. Stay organized and trendy with a backpack that combines fashion and functionality.
3. Let your creativity shine with a high-quality art set that will surely impress your teachers.
4. Stay connected with your favorite tunes with a top-of-the-line wireless headphone.
How Can You Participate?
Participating in the True Cool for School Sweepstakes couldn't be simpler. All you need to do is register! Just follow these easy steps:
1. Head over to our official True Cool for School Sweepstakes website.
2. Fill out the registration form with your accurate and up-to-date information. We take privacy seriously, so rest assured that your details will be protected.
3. Once you've completed the registration, make sure to keep an eye on your email inbox. We'll be sending you updates on the sweepstakes, winners' announcements, and exclusive offers.
Why Register?
Wondering why you should take the time to register for the True Cool for School Sweepstakes? Well, here are a few reasons that might convince you:
1. The thrill of winning: Imagine the excitement of hearing your name announced as a lucky winner! By registering, you're putting yourself in the race for these incredible back-to-school prizes.
2. Access to exclusive offers: As a registered participant, you gain exclusive access to special offers and discounts from our partnering brands and retailers. This means even more savings while shopping for your back-to-school essentials.
3. Empower your community: In addition to your personal benefits, a portion of the proceeds from the True Cool for School Sweepstakes will go toward supporting educational initiatives in underprivileged communities. By participating, you're making a positive impact and helping students who may not have the same access to resources.
Conclusion:
The True Cool for School Sweepstakes is the ultimate opportunity to make your back-to-school experience unforgettable. Don't miss out on the chance to win amazing prizes and take a step toward better education for all. Register now and get ready to embark on the coolest school year yet!
So, what are you waiting for? Take a moment to register for the True Cool for School Sweepstakes and make back-to-school shopping a breeze!
Claim this great opportunity today.