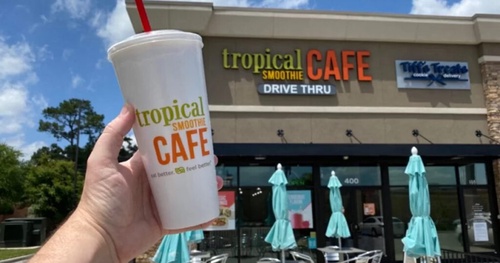 Free Smoothies ALL WEEK LONG at Tropical Smoothie Cafe Starting August 14th – GET READY FOR A HOT OFFER!!
Are you a smoothie lover? Well, get ready because Tropical Smoothie Cafe has an amazing promotion coming up that you won't want to miss! Starting August 14th and through August 20th, 2023, you can score a FREE smoothie at Tropical Smoothie Cafe when you make a food purchase. Yes, you heard it right! FREE smoothies all week long!
But how can you take advantage of this fantastic offer? It's simple! All you have to do is sign up for Tropic Rewards and find this exclusive offer in the app when you are signed in. Tropic Rewards is Tropical Smoothie Cafe's loyalty program, designed to reward their most loyal customers with exciting perks and benefits. By becoming a member, you'll have access to exclusive offers like this free smoothie promotion and so much more!
Signing up for Tropic Rewards is quick and easy. Just download the Tropical Smoothie Cafe app on your mobile device and create an account. Once you're all set up, you'll be able to explore all the rewards and deals waiting for you. Not only will you be able to enjoy free smoothies, but you'll also receive other discounts, special promotions, and even surprise treats. It's the perfect way to satisfy your craving for delicious smoothies while saving some extra cash!
Tropical Smoothie Cafe offers a wide variety of refreshing and nutritious smoothies that are made from the freshest ingredients. Whether you're in the mood for a classic strawberry banana smoothie, a tropical mango-pineapple blend, or a protein-packed power smoothie, they have something to satisfy every taste bud. And with this limited-time offer of free smoothies all week long, you'll have the perfect opportunity to try out different flavors and discover your new favorite!
Imagine starting your day with a creamy, fruity, and oh-so-refreshing smoothie from Tropical Smoothie Cafe. It's the ultimate way to kickstart your morning and keep you energized throughout the day. Plus, these smoothies are not only delicious but also packed with essential vitamins and nutrients, making them a healthy choice for your body too!
So mark your calendars for August 14th and get ready to indulge in a week of free smoothies from Tropical Smoothie Cafe. Don't let this amazing offer pass you by! Make sure to join Tropic Rewards and download the app to unlock this exclusive promotion. Trust us, you won't want to miss out on this opportunity to treat yourself to a refreshing and FREE smoothie every day for a whole week!
Visit Tropical Smoothie Cafe and take advantage of this hot offer. Start your day right, quench your thirst, and savor the deliciousness of their mouthwatering smoothies. It's the perfect way to satisfy your cravings and enjoy a little taste of paradise.
Join Tropic Rewards and get your hands on a FREE smoothie when you make a food purchase. Don't wait, download the app now and get ready for a week of tropical delight!
Note: This blog post is for promotional purposes only and the offer is subject to the terms and conditions set by Tropical Smoothie Cafe.
Claim this great opportunity today.