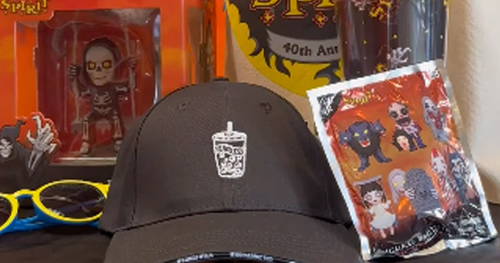 Title: Celebrate Spirit Halloween's 40th Anniversary with a Chance to Win an Exclusive Swag Bag!
Introduction:
Calling all Halloween enthusiasts and fans of all things spooky and fun! Are you ready to join Spirit Halloween in celebrating their 40th anniversary? We have an exciting opportunity for you to participate in the Spirit Halloween 40th Anniversary Swag Bag Sweepstakes! Keep reading to find out how you can enter for a chance to win one of the ten exclusive swag bags up for grabs.
Discover the Magic of Spirit Halloween:
For four decades, Spirit Halloween has been the ultimate destination for all your Halloween needs. With a wide variety of costumes, accessories, decorations, and more, they have become the go-to place for people of all ages to embrace the spookiest season of the year. This year, as they celebrate their 40th anniversary, Spirit Halloween is going above and beyond to make it a memorable experience for everyone.
What's in the Spirit Halloween 40th Anniversary Swag Bag?:
These limited-edition swag bags are packed with Halloween goodies that any fan would adore. From exclusive merchandise to must-have collectibles, the contents are sure to excite and delight your inner Halloween lover. Although we can't reveal the exact items just yet, we guarantee it will be a treat worth winning.
How to Participate:
Entering the sweepstakes is as easy as carving a pumpkin! Simply follow these steps:
1. Visit the official Spirit Halloween 40th Anniversary Swag Bag Sweepstakes page.
2. Complete the registration form with your name, email address, and any additional required information.
3. Accept the official rules and regulations.
4. Click the enter button and voila! You're officially in the running for a chance to win one of the ten Spirit Halloween 40th Anniversary Swag Bags.
Remember, this is a one-time entry, so make sure to take advantage of this opportunity before it vanishes like a ghostly apparition. The sweepstakes will end on August 13th, 2023, at 11:59 pm, so mark your calendars and don't miss out!
Unlock the Enchantment:
Imagine being one of the lucky winners to receive the exclusive Spirit Halloween 40th Anniversary Swag Bag. You'll have access to unique memorabilia, cherished keepsakes, and hauntingly delightful surprises that will make this Halloween season one to remember.
So, don't wait! Embrace the spirit of Halloween and register for the Spirit Halloween 40th Anniversary Swag Bag Sweepstakes today. Let the magic unfold, and who knows, you might be one of the fortunate few to carry home this extraordinary collection of spooktacular treats.
Act fast, as time is ticking away. Visit our website or check out the official Spirit Halloween social media channels to find the registration link. Make sure to spread the word among your fellow Halloween enthusiasts so they don't miss out on this fantastic opportunity either.
Celebrate 40 years of thrills, chills, and ultimate Halloween joy with Spirit Halloween. Don't miss out on your chance to win a coveted Spirit Halloween 40th Anniversary Swag Bag. Enter the sweepstakes now and let the countdown to Halloween begin!
Claim this great opportunity today.