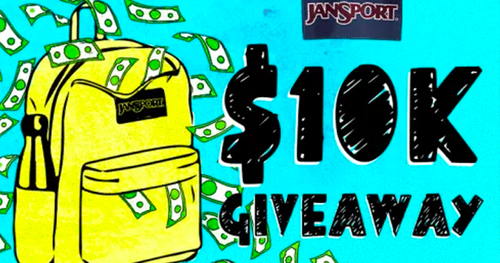 Tillys x JanSport $10k Giveaway!
Attention all fashion lovers, backpack enthusiasts, and students of all ages! Are you ready for the ultimate giveaway that could change your wardrobe and benefit your school? Tillys and JanSport have partnered up to bring you the Tillys x JanSport $10k Giveaway, and trust us, you don't want to miss out on this opportunity!
Picture this – you have the chance to win a $500 Tillys gift card, allowing you to revamp your wardrobe with all the latest trends and styles. Imagine stepping into Tillys, hand-picking your favorite clothes, shoes, and accessories, without even having to worry about the price tag. It's a dream come true for any fashion enthusiast! Whether you're looking for new kicks, cozy sweaters, or the perfect backpack to complete your back-to-school wardrobe, Tillys has got you covered.
But that's not all! The Tillys x JanSport $10k Giveaway doesn't just stop at a gift card. When you enter, you also have the chance to win big for your school. If your entry is selected as the grand prize winner, Tillys will generously gift your K-12 school (public or private) with a whopping $10,000! Imagine the possibilities that this prize could create for your school – new books, supplies, technology, or even a well-deserved field trip. The potential to make a positive impact on your school community is simply limitless.
Now, we understand that some schools might have certain policies or restrictions when it comes to receiving donations. In the unlikely event that your school declines the prize, don't fret! You still get to keep the $500 Tillys gift card for yourself. Imagine all the amazing fashion items you can splurge on, and don't worry – we won't judge!
So, how can you enter this incredible giveaway? It's simple! Just visit the official Tillys website or head over to your nearest Tillys store to find out how to participate. Remember, this giveaway is open for a limited time only, so don't miss your chance to win big for yourself and your school!
Whether you're a student who wants to make a fashion statement or a parent hoping to give your child's school a much-needed boost, the Tillys x JanSport $10k Giveaway is the perfect opportunity for you. Take a leap of faith, enter the giveaway, and who knows, you might just be the lucky winner walking away with a $500 Tillys gift card or benefiting your entire school with a $10,000 donation. It's a win-win situation!
Don't wait any longer – head over to Tillys and enter the Tillys x JanSport $10k Giveaway now! Good luck, and may the odds be ever in your favor.
Claim this great opportunity today.