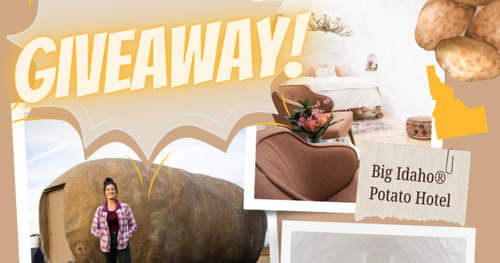 Title: Experience a Whimsical Getaway – The Big Idaho Potato Hotel Giveaway!
Intro:
Welcome, fellow adventurers! Are you searching for a truly unforgettable experience that combines luxury, quirkiness, and one-of-a-kind charm? Look no further! The Big Idaho Potato Hotel Giveaway is here to offer you a chance of a lifetime. Join us as we dive into the whimsical world of Idaho's most iconic landmark transformed into a stunning hotel for an unforgettable getaway.
Unveiling the Extraordinary:
Imagine waking up inside a gigantic potato! The Big Idaho Potato Hotel, located in the picturesque region of Boise, offers a truly unique and indulgent stay. This stunning retreat, artfully crafted from a 6-ton giant spud, has been renovated into a breathtaking abode, blending modern comforts with a touch of rustic elegance.
Luxurious Amenities:
Step into the front door of this potato palace, and you'll find yourself enveloped in a world of luxury and relaxation. The interior boasts meticulously designed rooms, featuring plush beds, spacious living quarters, and an array of modern amenities to cater to your every need. From the well-appointed bathroom to the cozy breakfast nook, every detail has been carefully thought out to ensure the utmost comfort for your stay.
Whimsical Surroundings:
Beyond the comfort of your potato-themed retreat, the idyllic setting of Idaho awaits your exploration. Nestled amidst picturesque landscapes and rugged natural beauty, the Big Idaho Potato Hotel offers the perfect starting point for outdoor adventures. Embark on hiking trails through the breathtaking mountains, journey through scenic valleys, or simply take a leisurely stroll through the charming downtown area of Boise – there's something for everyone here!
Exploring Idaho's Culinary Delights:
As the potato capital of the United States, it comes as no surprise that Idaho boasts a vibrant culinary scene. Savor the flavors of this agricultural wonderland with an array of delicious potato-inspired dishes and local cuisine, carefully crafted by talented chefs using the freshest ingredients. From wineries to farm-to-table eateries, Idaho offers a culinary journey sure to tantalize your taste buds.
Register Now for a Chance to Win:
Are you ready to experience the magic of the Big Idaho Potato Hotel? Don't miss out on the chance to win this once-in-a-lifetime getaway! Register for the Big Idaho Potato Hotel Giveaway now, and you could be the lucky winner who gets to spend unforgettable nights in this extraordinary spud retreat.
To enter, simply visit our website [Insert website link here] and fill out the registration form. Don't forget to share the news with your friends and family, because sharing is caring, and this experience is not to be missed!
Conclusion:
Escape the ordinary and immerse yourself in a world of potato-filled whimsy with the Big Idaho Potato Hotel Giveaway. From luxurious accommodations to awe-inspiring surroundings, this unique retreat promises an unforgettable experience for all. Don't hesitate – register now for your chance to win and embark on a potato-themed adventure like no other!
Claim this great opportunity today.