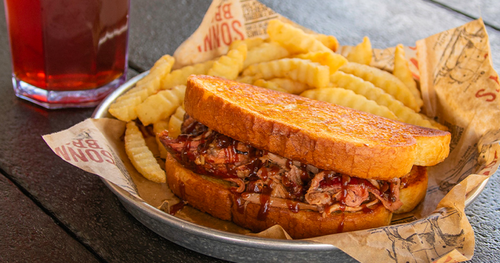 Attention all teachers! Are you looking for a delicious and satisfying meal to reward yourself for all your hard work? Well, we have some exciting news for you! Sonny's BBQ is offering a fantastic promotion exclusively for teachers – a free Pork Big Deal! Yes, you read that right! From August 21-24, you can enjoy a mouthwatering Pork Sandwich, Sidekick, and Soft Drink without spending a dime.
We know that being a teacher is an incredibly demanding and challenging profession. You dedicate countless hours shaping young minds, igniting a love for learning, and making a difference in the lives of your students. Sonny's BBQ wants to show their appreciation for your dedication and commitment by treating you to a delicious meal.
Imagine sinking your teeth into a tender, juicy pork sandwich, perfectly paired with a delectable Sidekick and refreshing soft drink of your choice. Whether you prefer the classic flavors of barbecue, the zing of barbecue sauce, or the smokiness that leaves your taste buds craving for more – Sonny's BBQ has got you covered. Indulge in this mouthwatering treat and savor each bite as a well-deserved reward.
We understand that as a teacher, you are often on the lookout for great deals and promotions. With Sonny's BBQ offering this incredible free Pork Big Deal, there has never been a better time to take advantage of this fantastic offer. Treat yourself, unwind, and enjoy a truly delicious meal at Sonny's BBQ.
Sonny's BBQ is known for its warm Southern hospitality and mouthwatering dishes. Their commitment to quality and authenticity shines through in each and every bite. Whether you're a fan of their signature slow-smoked ribs, tender pulled pork, or flavorful brisket, you're guaranteed to be impressed by their culinary expertise.
So, how can you take advantage of this amazing offer? It's simple! Just head over to your nearest Sonny's BBQ between August 21-24, show your teacher identification, and voila! Your free Pork Big Deal will be yours to enjoy. It's Sonny BBQ's way of expressing gratitude to all the incredible teachers out there who tirelessly work to shape the future generation.
Don't miss out on this exclusive opportunity. Take a break from the classroom, recharge, and let Sonny's BBQ take care of satisfying your hunger. Gather your fellow educators, share this fantastic news, and make plans to head to Sonny's BBQ for a truly memorable and delicious experience.
Remember, this offer is only available for a limited time, so mark your calendars and make sure to visit Sonny's BBQ between August 21-24. Trust us, you won't want to miss out on this free Pork Big Deal. Treat yourself and let Sonny's BBQ serve you a scrumptious meal as a token of appreciation for the exceptional work you do each day.
Register now and let us know you'll be coming to enjoy your free Pork Big Deal. Spread the word, invite your colleagues, and make it a memorable outing. Sonny's BBQ can't wait to welcome you and celebrate all the incredible teachers out there. See you soon!
Claim this great opportunity today.