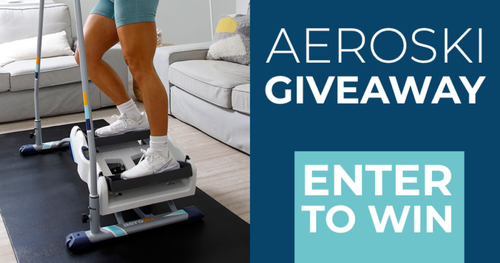 Introducing the Aeroski Summer Giveaway: Your Chance to Win Big!
As the weather heats up and summer approaches, many of us are eagerly anticipating the opportunity to get outside and enjoy all that this season has to offer. Whether it's lounging by the pool, participating in outdoor activities, or embarking on adventurous vacations, summer is the perfect time to create lasting memories with family and friends. And hey, who doesn't love a chance to win some exciting prizes while they're at it?
That's why we're thrilled to announce the Aeroski Summer Giveaway, a promotion that promises to bring the thrill of summer to new heights! Imagine soaring through the air with the wind in your hair and a wide smile on your face. It's an experience that will stay with you long after summer fades away. And now, we're giving you the opportunity to make this dream a reality!
Aeroski, the pioneer in outdoor adventure gear, has teamed up with The Freebie Guy® to offer you an incredible opportunity to win big. We want to make this summer unforgettable for one lucky winner, and that could be you! Whether you consider yourself an adrenaline junkie or just love trying new and exciting experiences, the Aeroski Summer Giveaway is your chance to take your summer to new heights – literally!
So, what can you win in this amazing giveaway? Well, we won't keep you in suspense any longer. Our grand prize winner will receive an all-expenses-paid trip for two to a stunning mountain resort, where you'll get to experience the fantastical thrill of aeroskiing firsthand. What is aeroskiing, you ask? Well, it's a unique and exhilarating sport that combines the best aspects of skiing and paragliding. Can you imagine gliding down the slopes with the wind in your face and the breathtaking scenery beneath you? It's a feeling like no other!
But that's not all – our grand prize winner will also receive a top-of-the-line aeroskiing gear package, ensuring that you're fully equipped for the adventure of a lifetime. From specially designed skis to harnesses and helmets, you'll have everything you need to make the most of your experience. Plus, to top it all off, you'll receive a generous cash prize to spend however you please – maybe on souvenirs or some post-adventure relaxation.
Now, you must be wondering how you can enter this incredible giveaway, right? It's simple! Just head over to our website and fill out the registration form. Make sure you provide accurate contact information so that we can reach out to you if you're the lucky winner. The deadline for registration is coming soon, so don't miss out on this amazing opportunity!
As you eagerly await the announcement of the winner, why not share the Aeroski Summer Giveaway with your friends and family? After all, the more, the merrier! Let's spread the excitement and give everyone a chance to experience the thrill of aeroskiing this summer.
Remember, life is meant for adventure, and the Aeroski Summer Giveaway is here to help you embrace it to the fullest. So, don't wait any longer! Head over to our website, register for the giveaway, and let the anticipation for an unforgettable summer adventure begin. You deserve it!
Please note that by entering this giveaway, you agree to the terms and conditions outlined on our website. Good luck, and may the adrenaline be with you!
Claim this great opportunity today.