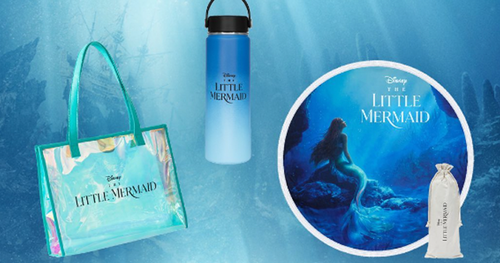 Disney Movie Insiders Seas the Day Sweepstakes – Enter to Win an Exclusive Prize Pack!
Are you ready to dive into a world where dreams come true? Look no further because Disney Movie Insiders has a captivating offer just for you! Get ready to embark on an unforgettable adventure with the Disney Movie Insiders Seas the Day Sweepstakes. This is your chance to win an incredible prize pack inspired by Disney's live-action adaptation of The Little Mermaid.
Imagine yourself swimming in a sea of enchantment with Ariel, Flounder, and Sebastian as you explore the wonders of Atlantica. This Prize Pack is a treasure trove of exclusive goodies that any Disney fan would love to own. And the best part? We're giving away TWENTY of these amazing packs, so your chances of winning are higher than ever!
Now, let's take a deep dive into what's waiting for you in this fabulous Prize Pack. Get ready to make a splash with the stunning The Little Mermaid Double Wall Water Bottle. This beautifully designed bottle features your favorite characters and is perfect for keeping your beverages cool and refreshing, whether you're heading to the beach or working up a sweat at the gym.
But that's not all! You'll also receive The Little Mermaid Tote Bag, a must-have accessory for any Disney enthusiast. With its vibrant colors and charming artwork, this tote bag is not only practical but also adds a touch of Disney magic to your everyday life. Take it with you on shopping trips, picnics, or even use it as a stylish beach bag.
And last but certainly not least, you will receive a stunning The Little Mermaid Journal that will ignite your creativity. Whether you use it for writing down your thoughts, sketching your favorite Disney characters, or documenting your own underwater adventures, this journal is the perfect companion for any aspiring mermaid or merman.
Now that you've seen what awaits you in this extraordinary Prize Pack, you're probably wondering how you can enter this magical sweepstakes. It's simple! Just head over to our website and fill out the registration form. Remember, registration is quick and easy, so you can dive into this thrilling opportunity in no time.
But wait, there's more! By registering for the Disney Movie Insiders Seas the Day Sweepstakes, you'll also become a part of the Disney Movie Insiders community. This means you'll gain access to exclusive content, earn points that can be redeemed for exciting rewards, and stay up-to-date with the latest Disney news and releases.
So, what are you waiting for? Don't pass up this chance to win an exclusive The Little Mermaid Prize Pack and join the enchanting world of Disney Movie Insiders. Register now for the Disney Movie Insiders Seas the Day Sweepstakes and let the magic begin!
Are you ready to make a splash and seize the day? Register for the Disney Movie Insiders Seas the Day Sweepstakes today and let the magic unfold!
Claim this great opportunity today.