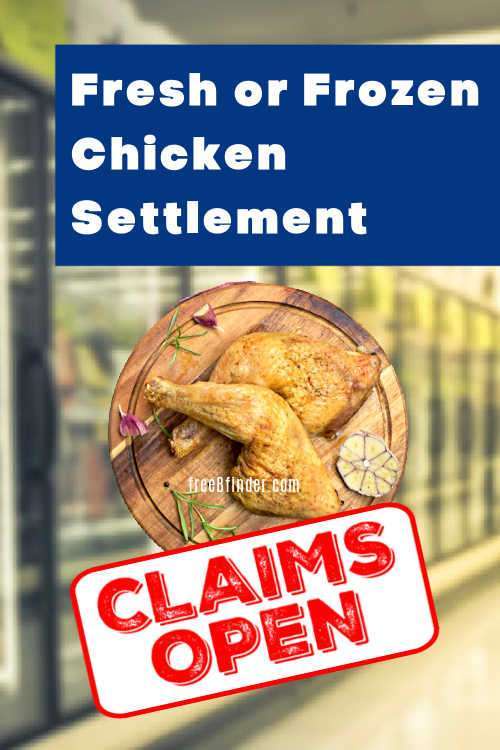 Title: Chicken Settlement – Claim with No Receipts! Register Now to Claim Your Share!
Introduction:
Have you ever wondered if you've been overcharged for chicken purchases without even realizing it? If so, we have great news for you! An exciting $181 million fresh or frozen chicken settlement is now open for claims, offering you the opportunity to receive money for any purchased chicken products that may have been overpriced. This blog post will give you all the details you need to know to take advantage of this exceptional opportunity. So, keep reading to learn how you could potentially receive a share of this substantial settlement amount.
Understanding the Chicken Settlement:
The settlement, called the Broiler Chicken Antitrust Litigation, is offering compensation to consumers who purchased fresh or frozen chicken in the select states involved. This legal action aims to rectify any alleged overpricing of chicken products by industry-leading suppliers. Even if you don't have a receipt, you may still submit a claim, making it incredibly convenient for consumers to participate.
Who's Eligible to Claim?
If you have purchased fresh or frozen chicken in any of the select states during the specified time period, you could be eligible to receive compensation. You don't need to provide a receipt to make a claim, which eliminates any potential hassle or stress associated with finding old purchase records.
How to File a Claim:
To join the settlement and potentially receive your share of the $181 million, you need to file a claim. The process is simple and can be completed online. Just visit the Broiler Chicken Antitrust Litigation website and follow the step-by-step instructions provided. You will need to provide some basic details related to your chicken purchases during the specified time frame.
Why Should You File a Claim?
Filing a claim in this landmark settlement could bring you several benefits. Firstly, it allows you to potentially receive monetary compensation for any chicken products you may have purchased at inflated prices. Secondly, participation in this legal action sends a strong message to industry suppliers, emphasizing the importance of fair pricing and ethical business practices.
Your Actions Make a Difference:
By joining the settlement and filing your claim, you contribute to holding industry-leading chicken suppliers accountable for their pricing practices. This collective effort ensures that consumers like you are empowered to seek justice for any potential overcharging. By registering for the settlement, you become an active participant in the fight for fairness within the chicken industry.
Conclusion:
Don't miss out on this exceptional opportunity to claim your share of the $181 million fresh or frozen chicken settlement. Whether you have receipts or not, you can still file a claim and potentially receive compensation for any chicken purchases you made during the specified time frame. Sign up today to ensure you don't overlook the chance to hold industry-leading suppliers accountable and receive the compensation you rightfully deserve. Visit the Broiler Chicken Antitrust Litigation website now and register your claim!
Claim this great opportunity today.