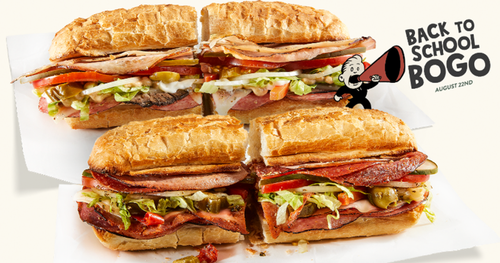 BOGO Potbelly Sandwiches on August 22nd, 2023
Are you a fan of Potbelly Sandwiches? Do you love the delicious combination of freshly baked bread, premium meats, and mouthwatering toppings? If you have a Potbelly Sandwich shop near you, then this promotion is just for you!
Potbelly Sandwiches is known for its hearty and flavorful sandwiches that are perfect for any meal. And now, to celebrate the back-to-school season, Potbelly is offering an amazing Buy One, Get One (BOGO) deal on August 22nd, 2023! That's right – when you buy one sandwich, you'll get another one absolutely free!
Imagine sinking your teeth into a warm and toasty sandwich, filled with your favorite ingredients. Whether you prefer classic options like the Turkey Breast or the Italian, or if you're feeling adventurous and want to try something new like the Chicken Bacon Avocado or the Mediterranean, this BOGO deal gives you the perfect opportunity to indulge in your cravings.
But wait, it gets even better! Potbelly Sandwiches has made it incredibly convenient for you to enjoy this fantastic offer. All you have to do is order online or through the Potbelly app to unlock the BOGO deal. With just a few simple taps on your device, you can have your favorite sandwiches delivered straight to your doorstep or ready for pickup at your nearest Potbelly Sandwich shop.
Not only is this promotion a great way to satisfy your appetite, but it's also an excellent value for your money. Getting two delicious sandwiches for the price of one means you can treat a friend, a family member, or even save the second sandwich for later. It's a win-win situation all around!
So, mark your calendars for August 22nd, 2023, and get ready to enjoy the BOGO Potbelly Sandwiches promotion. Whether you're a student gearing up for the school year, a busy professional looking for a quick and satisfying meal, or simply someone who appreciates a good sandwich, this offer is too good to pass up.
Make sure to spread the word about this incredible deal with your friends, family, and colleagues. Who knows? Maybe you can even arrange a Potbelly lunch outing and treat everyone to a delicious sandwich combo. The more, the merrier!
Don't miss out on this opportunity to enjoy two mouthwatering Potbelly Sandwiches for the price of one. Order online or through the app, and indulge in the deliciousness that only Potbelly can offer. Get your taste buds ready, because August 22nd, 2023, will be a day to remember!
To take advantage of this amazing BOGO deal on August 22nd, 2023, visit the Potbelly website or download the Potbelly app today!
Claim this great opportunity today.