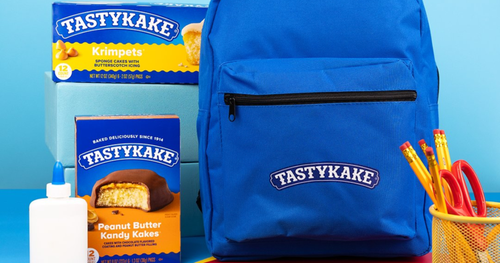 Title: Tastykake #BackToSchool Giveaway: Fueling the Excitement for the New Academic Year!
Introduction:
As the glorious summer days drift away, the excitement of a new academic year slowly builds. The #BackToSchool season is upon us, with students and parents alike preparing for the year ahead. To add a touch of sweetness to this important milestone, Tastykake is thrilled to announce its #BackToSchool Giveaway! Keep reading to find out how you can win fantastic prizes that will delight both kids and adults.
Tastykake: A Delicious Tradition:
With over a century of baking experience, Tastykake has become a household name renowned for its mouthwatering treats. From delectable cakes to scrumptious cookies, Tastykake never fails to deliver flavors that make your taste buds dance with joy.
Whether it's in your lunchbox, during a study break, or as a sneaky indulgence after school, Tastykake products bring smiles to everyone's faces. Now, with the #BackToSchool Giveaway, the excitement of starting a new school year can be even sweeter!
The #BackToSchool Giveaway:
Imagine your child's delight when they open their lunchbox to find a delightful surprise from Tastykake. From chocolate cupcakes to creamy peanut butter Kandy Kakes, the possibilities for a mouthwatering treat are endless.
But Tastykake wants to go beyond just brightening lunchtime – we want to make this school year truly memorable. That's why the #BackToSchool Giveaway includes a chance to win exciting prizes that will enhance your child's academic journey.
How to Enter:
Participating in the Tastykake #BackToSchool Giveaway is as easy as ABC. Simply follow these steps:
1. Like and follow Tastykake on all our social media platforms, including Facebook, Twitter, and Instagram. This way, you won't miss any news or updates regarding upcoming promotions.
2. Share the Tastykake #BackToSchool Giveaway post on your social media channels. Spread the word and let your friends and family know about this incredible opportunity to win!
3. Visit our website and fill out the registration form. Provide your contact details and answer a fun question that will get you thinking about your favorite Tastykake product. This simple step ensures you're in the running to win the ultimate #BackToSchool Giveaway prize pack!
Prize Pack:
Drumroll, please! The moment you've been waiting for – the incredible prizes included in the Tastykake #BackToSchool Giveaway prize pack!
1. A year's supply of Tastykake products: Enjoy a delectable assortment of Tastykake treats throughout the year. From classics to new and exciting flavors, we've got your cravings covered!
2. Back-to-school essentials: Get your child ready for their academic journey with brand-new school supplies, including notebooks, pens, backpacks, and lunchboxes.
3. Fun surprises: We don't want to reveal all the surprises just yet, but rest assured that your family will be treated to some memorable goodies that will make each school day extraordinary!
Conclusion:
Are you ready to make this back-to-school season unforgettable? Tastykake invites you to participate in the #BackToSchool Giveaway and celebrate this exciting time with a dash of sweetness. Follow us on social media, share the giveaway post, and register on our website for a chance to win a fantastic prize pack filled with tasty treats and surprises.
Don't miss this opportunity to add a delicious touch to the new academic year. Join us in making #BackToSchool truly enjoyable and register for the Tastykake #BackToSchool Giveaway today!
Claim this great opportunity today.