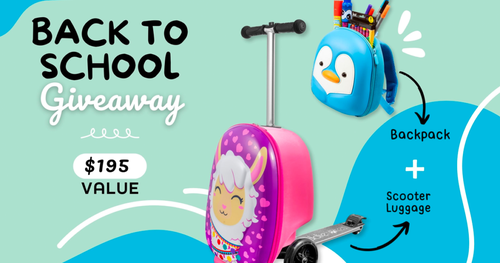 Title: Gear Up for School with Kiddietotes Back to School Giveaway!
Introduction:
The back-to-school season is just around the corner, and there's no better time to start getting your little ones ready for their next adventure in education. To make this transition even more exciting, Kiddietotes is thrilled to announce our Back to School Giveaway! This fabulous promotion is designed to help your kids start the new school year in style, equipped with the trendiest and most functional backpacks and accessories. Read on to learn more about Kiddietotes and how you can make your child a part of this exciting giveaway!
Welcome to Kiddietotes:
At Kiddietotes, we believe that every child deserves to have a backpack that not only suits their unique style but is also durable, comfortable, and made with high-quality materials. Our wide range of backpacks caters to all ages and comes in playful designs, ensuring that your child will have a backpack that they love carrying every day.
Back to School Giveaway Highlights:
Our Back to School Giveaway is your chance to win an exclusive backpack package that will make your child stand out from the crowd. Here's a quick glimpse of what this incredible prize includes:
1. Stylish Backpack: Our featured backpack is not only packed with ample storage space but also showcases the latest design trends. From cute animal prints to cool superheroes, we have a backpack that suits every child's personality.
2. Matching Lunch Box and Water Bottle: Complete your child's back-to-school ensemble with a matching lunch box and water bottle. Designed to coordinate perfectly with the backpack, these accessories will not only keep your child hydrated and well-fed but also make them the envy of their classmates!
3. Essential School Supplies: We understand that getting your child ready for school involves more than just a backpack. That's why our prize package also includes essential school supplies to ensure that your child is fully prepared to tackle any academic challenge that comes their way.
How to Enter the Giveaway:
Participating in the Kiddietotes Back to School Giveaway is as easy as ABC! To be in with a chance to win this amazing prize package, simply follow these steps:
1. Visit our website and explore our range of backpacks to find your child's favorite design.
2. Follow us on our social media platforms to stay updated with the latest news and promotions.
3. Fill out the registration form with your details, including your name, email address, and a few optional details about your child.
4. Submit your entry and keep your fingers crossed!
Conclusion:
Give your child the awesome back-to-school experience they deserve with Kiddietotes' Back to School Giveaway. Don't miss out on this chance to win an amazing backpack package, complete with matching accessories and essential school supplies. Register now by visiting our website and filling out the simple form. Remember, the deadline to enter is approaching fast, so make sure to secure your spot today!
Together, let's make this back-to-school season extraordinary for your little one with Kiddietotes. Enter the giveaway now, and best of luck to all participants!
Claim this great opportunity today.