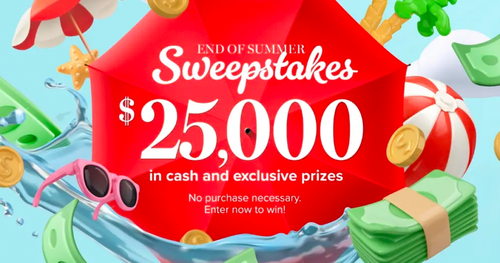 Summer is slowly coming to an end, but that doesn't mean the fun has to stop! To keep the summer vibes going strong, we are thrilled to announce our exciting promotion – the "End of Summer" Sweepstakes! Get ready for a chance to win some amazing prizes that will make the transition from summer to fall a little bit easier.
We know that saying goodbye to summer can be bittersweet, but we believe in going out with a bang. That's why we've put together a prize package that is sure to leave you feeling excited for what's to come. From beach gear to backyard barbecues, our "End of Summer" Sweepstakes has it all.
Imagine yourself lounging on the sand with a brand-new beach chair and umbrella, soaking up the last rays of summer sun. Or picture yourself firing up the grill with friends and family, enjoying delicious food and making memories that will last a lifetime. Our prize package is designed to help you make the most of these final summer days and create moments that will keep you smiling long after the season ends.
But wait, there's more! In addition to the fabulous prizes, we're also offering a once-in-a-lifetime experience. One lucky winner will have the opportunity to take a weekend getaway to a luxurious beach resort. Picture yourself sipping on a refreshing cocktail by the pool, indulging in spa treatments, and relishing in the ultimate relaxation. It's the perfect way to bid farewell to summer and welcome a new season with open arms.
Entering the "End of Summer" Sweepstakes couldn't be easier. Simply visit our website and fill out a quick registration form. Once you're registered, you'll automatically be entered for a chance to win our incredible prize package. Don't miss out on this golden opportunity to make the most of the end of summer!
Not only will you have a chance to win some incredible prizes, but you'll also join a community of like-minded individuals who are passionate about embracing every season to the fullest. We believe in celebrating the small moments and finding joy in life's simple pleasures. By entering the "End of Summer" Sweepstakes, you'll become part of a vibrant community that values making the most out of every day.
So, what are you waiting for? Don't let the end of summer blues get you down. Turn that frown upside down and get ready for some incredible fun with our "End of Summer" Sweepstakes. Register now and let us help you finish summer on a high note. The countdown to an unforgettable end of summer starts now!
Register for the "End of Summer" Sweepstakes today and get ready to make the most of these final summer days. We can't wait to see you join our community and celebrate the start of a new season in style. Don't miss out on this amazing opportunity – register now and let the fun begin!
Claim this great opportunity today.