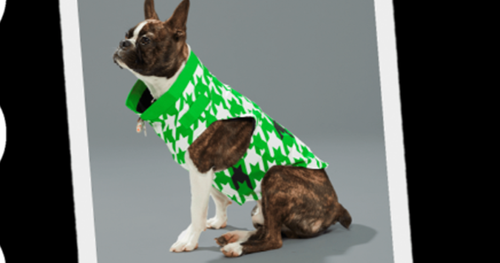 Introducing the GREENIES Houndstoothless Sweepstakes!
Attention all pet lovers and snack enthusiasts! We have some exciting news to share with you. GREENIES, the leading brand in dental treats for dogs, is thrilled to announce the launch of our Houndstoothless Sweepstakes. If you're looking for a chance to win amazing prizes for your furry friend while also ensuring their dental health, then this is an opportunity you don't want to miss!
GREENIES understands the importance of providing our four-legged companions with the care they deserve. As pet owners ourselves, we know that a healthy smile is just as crucial for dogs as it is for us humans. That's why our revolutionary dental chews have become a favorite among pet parents across the globe.
Now, let's talk about the Houndstoothless Sweepstakes and the fantastic rewards that are up for grabs! By entering this sweepstakes, you automatically get a chance to win a year's supply of GREENIES dental treats for your pooch. Imagine the joy on your furry friend's face as they indulge in a whole year's worth of delicious dental goodness.
But that's not all – we have even more prizes in store for the lucky winners. Alongside the grand prize, we are giving away five runner-up prizes, each consisting of a GREENIES gift basket containing an assortment of our top-selling products. Treat your dog to a wealth of dental delights and watch their tail wag with delight!
Entering the Houndstoothless Sweepstakes is incredibly easy. All you need to do is visit the official GREENIES website and fill out the registration form. Don't worry, the process is quick and hassle-free, so you'll have plenty of time left to enjoy quality bonding moments with your furry friend. Just imagine the excitement as you eagerly await the announcement of the winners.
For those who haven't tried GREENIES dental treats yet, this sweepstakes offers the perfect opportunity to experience the benefits firsthand. Our treats are not only delicious but also designed to help improve your dog's dental health. With a unique texture that fights plaque and tartar build-up, GREENIES dental chews are the perfect way to maintain your pup's oral hygiene while also treating them to something they'll absolutely love.
So what are you waiting for? Register now for the GREENIES Houndstoothless Sweepstakes and give your dog a chance to win a year's supply of dental treats and other amazing prizes. Don't miss out on this fantastic opportunity to pamper your four-legged friend and keep their smile shining bright!
Remember, a healthy smile leads to a happy dog. Join the GREENIES Houndstoothless Sweepstakes today and give your furry friend the dental care they deserve. Sign up now and get ready to make your dog's dream come true!
Claim this great opportunity today.