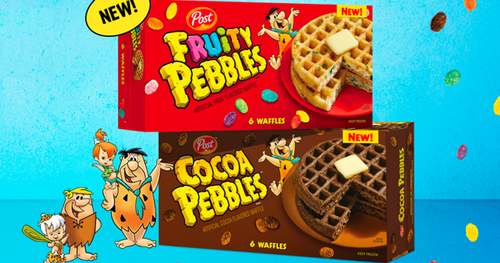 Title: Free Fruity PEBBLES or Cocoa PEBBLES Waffles [After Rebate]
Are you ready for a delightful breakfast experience that combines the crunch of PEBBLES cereal with the fluffy goodness of waffles? Look no further! We have an exciting offer just for you. Introducing the Free Fruity PEBBLES or Cocoa PEBBLES Waffles promotion, where you can enjoy these mouthwatering waffles for absolutely free, thanks to our special rebate offer!
Now, you might be wondering, how does this amazing deal work? It's simple! All you have to do is purchase one package of any participating Fruity PEBBLES or Cocoa PEBBLES Waffles at your favorite retailer between 8/21/23 and 10/16/23. Keep your receipt safe, as you will need it for the next step.
Once you have made your purchase, visit our website to submit your receipt before 10/31/23. We want to ensure you get the most out of your PEBBLES Waffle experience, so we've made it even easier for you to claim your cash back. With just a few quick clicks, you can receive up to $3.79 back via PayPal or a check, making these scrumptious waffles an irresistible offer!
What sets our PEBBLES Waffles apart from the rest? Aside from being a delicious breakfast option, they bring a nostalgic and fun twist to your morning routine. Fruity PEBBLES Waffles are bursting with the vibrant fruity flavors you love, while Cocoa PEBBLES Waffles carry the rich and chocolatey taste you crave. Both options provide a delightful combination of crispiness and fluffiness that will leave your taste buds begging for more.
Not only are these PEBBLES Waffles incredibly tasty, but they are also a convenient and easy-to-prepare breakfast item. Perfect for those busy mornings or lazy weekends, simply pop them in the toaster or toaster oven, and within minutes, you'll have a warm and satisfying meal to start your day on a high note.
Whether you prefer the fruity goodness of Fruity PEBBLES or the indulgent allure of Cocoa PEBBLES, now is the time to give our PEBBLES Waffles a try. Discover the joy of a breakfast that combines the classic crunch of PEBBLES cereal with the warmth and fluffiness of a waffle. With the Free Fruity PEBBLES or Cocoa PEBBLES Waffles promotion, you have nothing to lose and everything to gain!
So, don't miss out on this incredible opportunity to indulge in the fantastic flavors of PEBBLES Waffles without spending a dime. Take advantage of the hot rebate offer today and savor the taste of childhood memories combined with the delightful twist of waffles. Treat yourself to a breakfast experience that will leave you smiling and satisfied.
To participate in this exciting promotion, head over to our website now to learn more and submit your receipt. Don't wait too long, though, as the offer ends soon. Get ready to rediscover the magic of PEBBLES Waffles with this incredible free offer! Register today and turn your breakfast routine into an adventure.
Claim this great opportunity today.