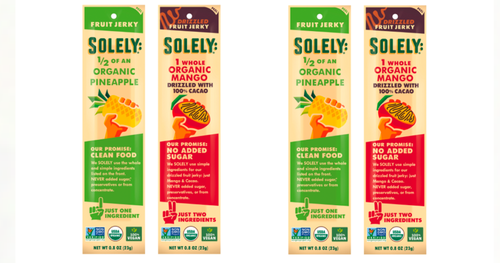 Possible Free Solely Fruit Jerky with Social Nature
Are you a fan of delicious and healthy snacks? Do you enjoy trying new and exciting flavors? If so, we have an offer that you won't want to miss! Sign up for Social Nature and you could have the chance to score some free Solely Fruit Jerky!
Social Nature is a platform that connects brands with consumers who are interested in trying new products. They offer a wide variety of free samples, ranging from food and beverages to beauty and wellness products. It's a fantastic way to discover new favorites and share your opinions with others.
To participate in this exciting promotion, all you need to do is sign up for Social Nature if you're not already a member. It's completely free and takes just a few minutes to create an account. Once you're signed up, simply select "I Want It" for the Solely Fruit Jerky offer, and you'll be automatically entered for a chance to receive this tasty snack for free.
Solely Fruit Jerky is a unique and delicious snack made from real fruit with no added sugars, concentrates, or preservatives. It's a guilt-free treat that's perfect for those who are looking for a healthy alternative to traditional snacks. With flavors like mango, pineapple, and banana, there's something for everyone to enjoy.
Imagine sinking your teeth into a chewy and flavorful piece of Solely Fruit Jerky, knowing that it's made from real fruit and nothing else. It's the perfect snack to satisfy your sweet tooth while staying true to your health goals. Whether you're on-the-go, at work, or simply looking for a tasty treat, Solely Fruit Jerky is a convenient and nutritious option.
Signing up for Social Nature and selecting "I Want It" for the Solely Fruit Jerky offer is easy, but the rewards can be incredible. If you're selected to receive the free sample, you'll be notified via email. It's that simple!
So, what are you waiting for? Don't miss out on the opportunity to try Solely Fruit Jerky for free! Sign up for Social Nature today and select "I Want It" for the chance to enjoy this delicious and healthy snack. It's a win-win situation – you get to discover a fantastic new product, and all it takes is a few clicks.
Remember, spaces are limited, so make sure to sign up and select "I Want It" as soon as possible. Treat yourself to a delicious and guilt-free snack that's sure to satisfy your cravings. Sign up for Social Nature and get ready to experience the mouthwatering flavors of Solely Fruit Jerky.
Happy snacking!
Claim this great opportunity today.