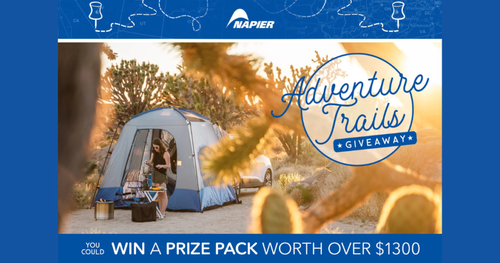 Title: Explore the Great Outdoors with the Napier Outdoors Adventure Trails Giveaway!
Introduction:
Are you a nature enthusiast, always seeking thrilling adventures and breathtaking landscapes? If the answer is yes, then we have an exciting opportunity for you! Welcome to the Napier Outdoors Adventure Trails Giveaway, where you have a chance to win some incredible prizes that will take your outdoor experiences to new heights!
Prizes that Fuel Your Outdoor Passion:
Imagine having the opportunity to choose between a Sportz SUV (model 82000) or a Sportz Truck tent (57 Series). Either of these fantastic camping accommodations will allow you to experience nature in the most comfortable and convenient way possible. No matter if you prefer traveling by car or truck, Napier Outdoors has got you covered.
But that's not all! The grand prize winner will also receive a Sportz air mattress, two Napier camping chairs, and a Hydaway Outdoor Explorer Kit. With these goodies in tow, you'll be equipped to relax and enjoy the beauty of the outdoors like never before.
Survival Essentials:
On top of these fantastic camping gear, the winner will also score an Outdoor Element Survival Bracelet and an Outdoor Element Multitol Carabiner. These cutting-edge tools will ensure your safety while exploring remote trails and embarking on exciting adventures. Additionally, the prize package includes knives from the renowned brand, Mal'o Dry, the ultimate companions for any outdoor enthusiast.
Why Enter the Giveaway?
Participating in the Napier Outdoors Adventure Trails Giveaway not only gives you the opportunity to win these fabulous prizes, but it also offers you a chance to enhance your outdoor escapades. Whether you are planning a weekend camping trip with friends or embarking on a solo hiking adventure, these prizes will elevate your experiences and make them even more memorable.
Imagine setting up the Sportz SUV or Truck tent at your favorite camping spot, enjoying a cozy night's sleep on the Sportz air mattress, and waking up to the sound of birds chirping. You can then gather around the campfire in your comfortable Napier camping chairs, all while knowing you have the necessary survival tools from Outdoor Element and Mal'o Dry.
Don't Miss Out, Register Today!
So, what are you waiting for? Take this opportunity to register for the Napier Outdoors Adventure Trails Giveaway and increase your chances of winning these incredible prizes. Enter your details and keep your fingers crossed – you never know, you might be the lucky winner who gets to experience outdoor adventures like never before!
In conclusion, the Napier Outdoors Adventure Trails Giveaway gives you the chance to win a wide range of amazing prizes that will transform your outdoor experiences into unforgettable memories. Don't miss out on this opportunity to upgrade your camping gear and enhance your survival preparedness. Register now and get ready to explore the great outdoors in style!
Claim this great opportunity today.