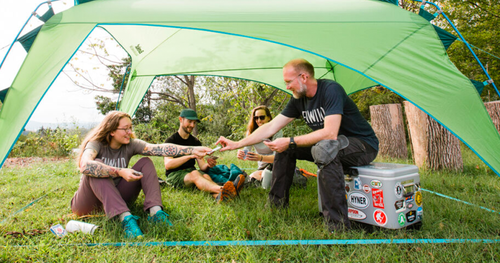 Eureka Tagalong Giveaway – Experience the Great Outdoors in Style
Are you ready for your next outdoor adventure? Imagine sitting under a clear blue sky, surrounded by beautiful nature, and enjoying the comforts of a cozy shelter and comfortable chairs. Well, you're in luck! We are excited to announce the Eureka Tagalong Giveaway, where you have the chance to win an amazing prize package.
Prize Details
One lucky winner will receive the ultimate outdoor package, including a Eureka Tagalong Shelter and two Eureka Tagalong Comfort Chairs. These innovative and high-quality products are designed to enhance your outdoor experience, whether you're camping, tailgating, or simply spending time in your backyard. The Eureka Tagalong Shelter provides reliable protection from the elements, while the Eureka Tagalong Comfort Chairs offer unbeatable comfort and support. With these fantastic prizes, you'll be able to relax and enjoy the great outdoors like never before.
How to Enter
Participating in the Eureka Tagalong Giveaway is quick and easy. Simply follow these steps for a chance to win:
1. Visit our website and locate the giveaway page. [LINK]
2. Fill out the entry form with your name, email address, and other required information.
3. Click the submit button to complete your entry.
4. Keep your fingers crossed and wait for the winner announcement.
Remember, this giveaway is a one-time entry, so be sure to maximize your chances by submitting your entry before the deadline. The giveaway ends on August 31st, 2023 at 11:59 pm, so don't miss out on this incredible opportunity.
Why Enter?
Whether you're a seasoned outdoor enthusiast or just starting to explore the wonders of nature, the Eureka Tagalong Giveaway gives you the chance to elevate your outdoor adventures. Here's why you should enter:
1. Exclusive Prize Package: The Eureka Tagalong Shelter and Comfort Chairs are not your average outdoor gear. These products are designed with superior quality, durability, and comfort in mind, providing you with an unforgettable outdoor experience.
2. Enhance Your Outdoor Lifestyle: Imagine having the perfect shelter to protect you from rain, wind, or harsh sunlight, while also having comfortable chairs to relax in. With the Eureka Tagalong prize package, you'll be able to enjoy outdoor activities in style and comfort.
3. Free and Easy Entry: Participating in the giveaway is completely free, and all it takes is a few minutes of your time. Don't miss this opportunity to win these premium outdoor essentials without spending a dime.
Join the Eureka Tagalong Giveaway Today!
Don't let this fantastic opportunity slip away. Enter the Eureka Tagalong Giveaway today for your chance to win the ultimate outdoor package. Registering is quick and easy – simply follow the steps outlined above, and you could be on your way to experiencing the great outdoors in style.
But wait, there's more! By joining the giveaway, you'll also gain access to exclusive deals, sweepstakes, and freebies. Never miss another hot run deal or exciting promotion again. Join our community today and stay informed about all the amazing opportunities waiting for you.
Register now and embrace your next adventure with the Eureka Tagalong Giveaway. Remember, the deadline is August 31st, 2023 at 11:59 pm, so make sure to enter before it's too late. Good luck, and happy exploring!
Claim this great opportunity today.