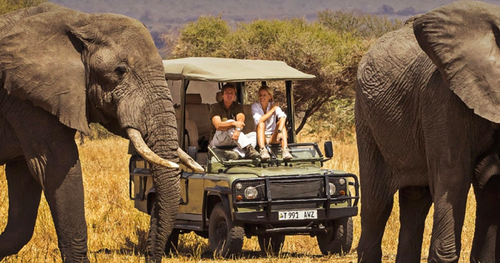 Go2Africa's 25th Birthday Giveaway – An Epic Celebration!
Attention all adventure seekers, nature lovers, and wildlife enthusiasts! Go2Africa is turning 25 this year, and we're celebrating it in the most extravagant way possible. Brace yourselves for an epic giveaway that will leave you breathless and yearning for more! Welcome to Go2Africa's 25th Birthday Giveaway!
For a quarter of a century, Go2Africa has been the go-to destination for unparalleled African safaris, breathtaking wildlife encounters, and unforgettable travel experiences. To mark this significant milestone, we wanted to express our gratitude to our loyal customers and passionate travelers who have made this incredible journey with us.
Now, you might be wondering – what exactly is this epic giveaway all about? We're thrilled to reveal that we're giving one lucky winner the opportunity to embark on a once-in-a-lifetime African adventure. Yes, you heard that right – a fully immersive safari experience that will take you closer to nature and wildlife than ever before.
Imagine waking up to the mesmerizing sounds of the African bush, witnessing dramatic sunsets painting the sky in vivid hues, and encountering magnificent animals in their natural habitats. From the vast plains of the Serengeti in Tanzania to the majestic Victoria Falls in Zimbabwe, this giveaway will allow you to explore the diverse and awe-inspiring wonders of Africa.
Our lucky winner will have the chance to choose from a range of tailor-made safari itineraries, crafted by our team of expert travel consultants. Whether you're dreaming of witnessing the Great Migration, embarking on thrilling game drives, or enjoying a hot air balloon safari over the Maasai Mara, we guarantee an adventure that will surpass your wildest expectations.
But wait, that's not all! To ensure that your journey to Africa is seamless and worry-free, we will take care of all your travel arrangements, including round-trip flights, luxurious accommodations, and professional guides who will accompany you throughout your safari. All you have to do is pack your bags and be ready to create unforgettable memories!
Now, I know what you're thinking – how can I be a part of this incredible giveaway? Registering is as easy as a walk in the African savannah. Simply visit our website and fill out a short form with your contact details. By registering, you'll not only stand a chance to win this extraordinary safari experience but also receive exclusive updates on our latest travel deals, expert tips, and enchanting stories from the heart of Africa.
Spread the word and share this exciting news with your fellow travel enthusiasts – every registration counts! Imagine the thrill of packing your bags and setting off on an African adventure, knowing that you'll be contributing to the conservation efforts and the protection of Africa's precious wildlife.
So, don't miss this incredible opportunity to celebrate Go2Africa's 25th birthday in style. Register now, and you could be the lucky winner of the most unforgettable African experience of your life. Get ready to embark on a journey that will ignite your sense of adventure and leave you with memories that will last a lifetime.
Let the countdown to this magnificent giveaway begin – we can't wait to celebrate our 25th birthday with you in the heart of Africa!
Claim this great opportunity today.