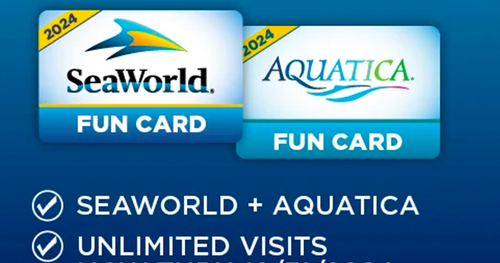 Buy a Sea World Fun Card and get Unlimited Visits in 2023 & 2024
Do you go to Sea World a lot?! If so, this is a deal you're not going to want to miss out on! Right now when you buy a Fun Card, you can get unlimited free visits to SeaWorld & Aquatica through 2024! Valid until December 31, 2024! What an amazing deal! Don't miss out!
Sea World is one of the most popular and beloved amusement parks in the world, and for good reason. With thrilling rides, incredible shows, and fascinating marine life encounters, it's a destination that offers endless entertainment for people of all ages. And with their latest promotion, visiting Sea World has never been more affordable and convenient.
Imagine being able to go to Sea World and Aquatica as many times as you want for the next two years, without ever having to worry about buying individual tickets. With a Fun Card, you can do just that. You can enjoy unlimited visits to both parks through 2023 and 2024. This is an incredible opportunity to make the most of your time at Sea World and create unforgettable memories with your family and friends.
The Fun Card is not only a great deal financially, but it also offers the freedom and flexibility to explore Sea World at your own pace. Whether you want to spend a whole day riding the thrilling roller coasters, or simply want to relax and enjoy the amazing shows and marine life exhibits, the choice is yours. And with unlimited access, you can come back as many times as you want to experience all that Sea World has to offer.
But that's not all! Sea World is constantly adding new attractions and experiences to keep things fresh and exciting. With your Fun Card, you'll be able to discover all the new additions coming in 2023 and 2024. From new shows to new animal encounters, there will always be something new and exciting to look forward to during your visits.
Don't miss out on this incredible opportunity to make the most of your time at Sea World. Whether you're a frequent visitor or have never been before, the Fun Card is the perfect way to experience everything the park has to offer without breaking the bank. It's also a fantastic gift idea for friends and family who love Sea World as much as you do.
So, what are you waiting for? Don't let this amazing offer pass you by. Head over to the Sea World website or visit your nearest Sea World park to purchase your Fun Card today. Unlock a world of unlimited adventure and fun at Sea World and Aquatica in 2023 and 2024. Get your Fun Card now and get ready for two years of unforgettable experiences.
Register now and start planning your endless visits to Sea World and Aquatica!
Claim this great opportunity today.