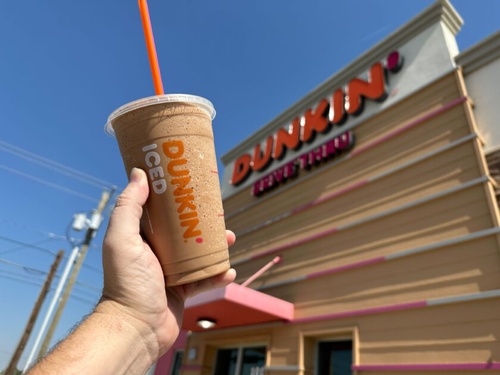 Title: Indulge in the Ultimate Refreshment – Free Iced Coffee at Dunkin!
Introduction:
Calling all coffee enthusiasts and deal hunters! If you're looking for a little pick-me-up, Dunkin' has the perfect offer for you. Get ready to savor the chilly delight of a FREE iced coffee, courtesy of Dunkin's exclusive promotion. Keep reading to find out how you can claim your refreshing drink, and make sure you don't miss out on future incredible deals by joining our Telegram Group!
The Iced Coffee Experience:
There's something undeniably refreshing about the first sip of a perfectly crafted iced coffee. The combination of smoothness, bold flavor, and a touch of sweetness instantly awakens the senses. Whether you're an iced coffee devotee or someone looking to discover a new favorite beverage, Dunkin' is here to make your day.
Unlock Your Free Iced Coffee:
Thanks to Dunkin's ongoing promotion, you can enjoy a taste of summer all the way through September 6th. And the best part? It's absolutely free! All you need to do is use the promo code "Jess" in the Dunkin' Rewards App when placing your order. Upon redemption, prepare to indulge in the irresistible goodness of a refreshing iced coffee without spending a dime. Hurry, though – this offer is available only while supplies last!
Dunkin' Rewards App:
To seize this delectable opportunity, it's essential to download the Dunkin' Rewards App. This highly convenient app not only allows you to access exclusive promotions like this one but also serves as your gateway to a wide array of delicious treats and sought-after deals. With just a few taps on your smartphone, you'll have Dunkin's extensive menu at your fingertips and be on your way to earning valuable rewards with every purchase.
Join Our Telegram Group:
While you're busy enjoying your free iced coffee, why not take it a step further and become a part of our incredible Telegram Group? By joining, you'll gain access to an abundance of online deals, irresistible sweepstakes, and thrilling freebies. Imagine never missing out on another hot offer or exciting promotion! Let us provide you with a world of savings and opportunities, ensuring every day is filled with delightful surprises.
Final Words:
Nothing beats the joy of indulging in a FREE iced coffee, especially when it's from Dunkin'! The pleasure of that cool, refreshing sip is simply unbeatable, and with the Dunkin' Rewards App, you'll unlock a whole host of other tempting benefits. Don't forget to use the promo code "Jess" to claim your complimentary beverage and experience the ultimate satisfaction of unbeatable flavor and incredible savings.
As you savor this delightful treat, remember to join our Telegram Group, where you'll discover a treasure trove of amazing deals, sweepstakes, and freebies. Stay tuned for future announcements, as we're always on the lookout for remarkable ways to help you save and indulge in all the things you love.
Don't wait another moment – claim your free iced coffee now and embark on an exciting journey of incredible savings, tasty rewards, and endless possibilities.
Claim this great opportunity today.