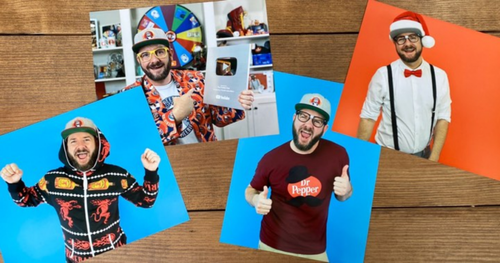 Title: Capture Your Memories for Free with 2 Free 5×7 Photo Prints at CVS!
Introduction:
Are you someone who loves capturing precious moments and cherishing them forever? Look no further, because we have an exciting offer that will help you preserve your memories without breaking the bank! CVS is currently offering 2 FREE 5×7 photo prints for a limited time only. With the convenience of in-store pickup and an easy online ordering process, this is an opportunity you won't want to miss! Read on to find out how you can avail this fantastic offer.
Preserve Your Favorite Moments:
Photographs hold the power to transport us back to a cherished moment, evoking emotions of joy, nostalgia, and love. Whether it's a beautiful sunset, a family gathering, or a candid shot with friends, these images help us relive those memories over and over again. CVS understands the importance of preserving these moments, and that's why they are generously offering 2 FREE 5×7 photo prints.
Convenience at Your Fingertips:
Gone are the days when printing photos required a lengthy process and a trip to the store. CVS has made it incredibly easy to claim your free prints. Simply visit their website, select your favorite photos, and use the code "2FREE5723" during checkout. To make things even more convenient, be sure to choose in-store pickup. This way, you can collect your prints at your nearest CVS location and witness the quality of your images firsthand.
Quality Prints Guaranteed:
Rest assured that when you choose CVS for your photo printing needs, you're getting top-notch quality. CVS has a longstanding reputation for excellence in the industry. Their state-of-the-art printing technology ensures that your precious memories are brought to life just the way you remember them. Enjoy vibrant colors, sharp details, and breathtaking clarity in your free 5×7 photo prints.
How to Avail this Exciting Offer:
Now that you're excited to get your hands on these free prints, let's walk through the simple process of claiming this offer:
1. Visit CVS's website and select the "Photo Prints" option.
2. Choose the 5×7 size and upload the two photos you desire to print.
3. Add the photos to your cart and proceed to the checkout page.
4. Enter the code "2FREE5723" to make your order completely free of charge.
5. Select in-store pickup to enjoy the convenience of having your prints ready for collection at your nearest CVS store.
Register Now for this Limited-Time Offer!
Preserve your most cherished memories with 2 FREE 5×7 photo prints at CVS! Thanks to this exclusive offer, you can enjoy high-quality prints that will bring your images to life, all without spending a dime. This limited-time deal is too good to pass up, so make sure to register now by visiting the CVS website to claim your prints. Share this incredible offer with your friends and family, so they too can capture their unforgettable moments for free!
Don't miss out on this amazing chance to claim your 2 FREE 5×7 photo prints. Visit CVS today and avail this offer that will help you create lasting memories that will be treasured for years to come.
Claim this great opportunity today.