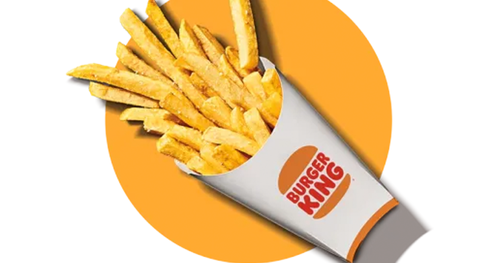 Free Any Size Fries at Burger King with ANY Purchase
Next time you head to Burger King, I've got a great freebie for you! You can enjoy one of America's favorite side dishes, french fries, in any size you want. Yes, that's right! Burger King is offering free french fries with ANY purchase over 0.01 cents. It's a deal you won't want to miss!
Imagine sinking your teeth into perfectly salted and crispy fries, whether you prefer the classic medium-sized portion or the generous large serving. With this promotion, you have the freedom to choose your favorite size, all while enjoying another tasty item from the Burger King menu.
To take advantage of this incredible offer, all you need is the Burger King app. Simply download it on your smartphone, and you'll have access to a variety of exclusive promotions and deals, including this free fries offer. The promotion runs through December 31st, 2023, giving you plenty of time to indulge in this mouthwatering deal.
Registering for the Burger King app not only gives you access to this fantastic promotion but also ensures that you never miss out on any future hot run deals, sweeps, or freebies. The app is a one-stop-shop for all your Burger King cravings, allowing you to browse the menu, place orders, and customize your meals according to your preferences. It's convenient, easy to use, and guarantees you'll always be in the know when it comes to the latest offers and discounts.
Burger King continues to innovate and surprise its customers with unique and exciting promotions like this one. By pairing your favorite burger, chicken sandwich, or dessert with a free side of fries, you can elevate your Burger King experience without breaking the bank.
Whether you're grabbing lunch on the go, looking for a quick snack, or treating yourself to a delicious meal, the free fries offer at Burger King is the perfect bonus to enhance your dining experience. Plus, with the freedom to choose any size, you can satisfy your cravings to the fullest.
So, why wait? Don't miss out on this amazing opportunity to get your hands on a free portion of delectable fries. Download the Burger King app today and start enjoying the perks of being a member. Remember, this offer is available through December 31st, 2023, and is only a click away.
Register now, and let Burger King treat you to some free fries with your next purchase. It's a deal that's too good to pass up!
Claim this great opportunity today.