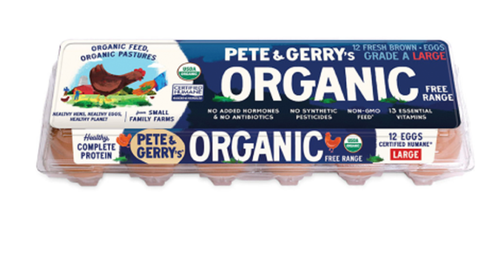 Possible Free Pete & Gerry's Organic Eggs with Social Nature
Are you a fan of eggs? How about organic eggs? If the answer is yes, then we have some exciting news for you! You now have the chance to score Pete & Gerry's Organic Eggs for free through Social Nature!
For those who are not familiar with Social Nature, it is a platform where you can discover, try, and review natural and organic products. And this time, they are giving you the opportunity to get your hands on Pete & Gerry's Organic Eggs without spending a single dime.
Pete & Gerry's is a renowned brand that is committed to providing consumers with the highest quality organic eggs. Their eggs come from happy, healthy, and humanely raised hens that are free to roam and forage on family farms. With Pete & Gerry's, you can enjoy eggs that are not only delicious but also produced with care for the environment and animal welfare.
To enter for a chance to receive free Pete & Gerry's Organic Eggs, all you need to do is sign up for Social Nature if you are not already a member. It's a quick and simple process that will unlock a world of natural and organic product opportunities.
Once you've signed up, navigate to the Pete & Gerry's Organic Eggs offer page on Social Nature. Select "I Want It" and you will be considered for this amazing freebie. Keep an eye on your inbox, as Social Nature will send you an email if you are selected to receive the free eggs.
But wait, there's more! Social Nature is not just about freebies. It's a community of like-minded individuals who are passionate about natural products and sharing their experiences. You can participate in campaigns, leave reviews, and connect with others who share your interests. It's a great way to discover new products and contribute to the growing natural and organic movement.
So why not take a chance and register for this incredible offer? Who doesn't love the idea of free Pete & Gerry's Organic Eggs? By signing up with Social Nature and selecting "I Want It," you could be one step closer to enjoying these premium organic eggs in the comfort of your own home.
Remember, the offer is open to both existing and new members of Social Nature. If you've never tried Pete & Gerry's Organic Eggs before, this is the perfect opportunity to see what all the hype is about. And if you're already a fan, well, what are you waiting for?
Take a few minutes out of your day to register for this promotion. It's a risk-free opportunity to get your hands on some delicious, organic eggs. Sign up now and keep your fingers crossed for that email notification from Social Nature. Your taste buds will thank you!
Note: The availability of this offer may vary depending on your location and Social Nature's campaign timelines. So don't miss out and register now!
Claim this great opportunity today.