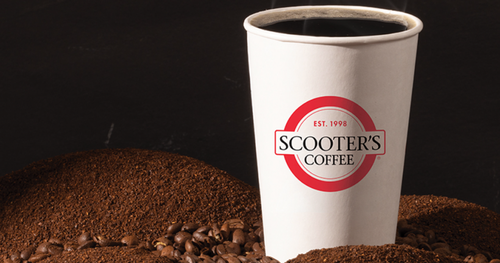 Title: Sip Your Way Through September with Free Brewed Coffee at Scooter's!
Introduction:
Calling all coffee lovers! If you have a Scooter's Coffee shop near you, get ready to kickstart your mornings with an irresistible offer that will make your taste buds tingle. Starting from the first day of September until the very last, Scooter's Coffee is offering a delightful treat – a FREE brewed coffee every single day! This promotion is perfect for those seeking their daily caffeine fix without breaking the bank. So, if you're wondering how you can savor the rich flavors of Scooter's perfectly brewed coffee for FREE, keep reading!
Why Scooter's Coffee?
Scooter's Coffee is renowned for its exceptional quality, flavorful brews, and dedication to customer satisfaction. With a wide range of beverages and an extensive menu of tempting treats, Scooter's Coffee is a haven for coffee enthusiasts seeking a cozy and warm atmosphere. From creamy lattes to invigorating espressos, their expert baristas craft each cup with precision, ensuring an unforgettable coffee experience.
The Delectable Offer:
Imagine, waking up every day in September and heading to your nearest Scooter's Coffee shop to claim your complimentary brewed coffee. Yes, you heard it right! Beginning on September 1st and continuing every day throughout the month, Scooter's Coffee is treating its valued customers to a steaming cup of their signature brewed coffee – on the house! Picture yourself indulging in the luscious aroma and robust flavors that make Scooter's Coffee so beloved.
How to Redeem:
To redeem your daily free coffee, all you need to do is swing by your local Scooter's Coffee shop and present your registered Scooter's Rewards card or app. Don't worry if you don't have one yet, as it only takes a moment to sign up either in-store or online. Once registered, you'll be able to access exclusive perks, personalized offers, and enjoy the convenience of collecting and redeeming rewards with each purchase.
Discover Your Nearest Scooter's Coffee Shop:
Wondering if there's a Scooter's Coffee shop conveniently located near you? Whether you're out grabbing groceries, commuting to work, or enjoying a leisurely stroll, you're likely to find a Scooter's Coffee shop somewhere along the way. To locate your nearest Scooter's Coffee shop, simply visit their website and use the store locator feature. Just a few taps and you'll be on your way to enjoying your free brewed coffee for the day!
Stay Informed with Exclusive Offers:
As a marketing professional, you understand the value of staying up to date with the hottest deals, sweepstakes, and freebies – and we've got you covered! Join our Telegram Group, curated by The Freebie Guy®, where we post a plethora of online deals at jaw-dropping discounts ranging from 70% to 90% off! Enjoy access to limited-time promotions before anyone else and level up your savings game.
Don't Miss Out!
This September, indulge in the generous offer from Scooter's Coffee and satisfy your coffee cravings with a free brewed coffee every day. Head over to Scooter's Coffee, register for their rewards program, and unlock a month of blissful mornings filled with delicious, expertly brewed coffee. Wake up and seize the opportunity to savor the delightful flavors that Scooter's Coffee has to offer. Join us now!
Claim this great opportunity today.