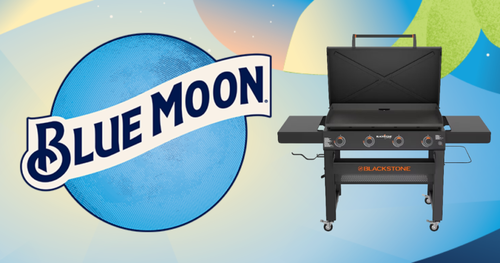 Blue Moon & Blackstone: Elevate Your Tailgate Sweepstakes
Are you ready to take your tailgate game to the next level? Blue Moon and Blackstone have partnered together to bring you the ultimate tailgate experience. Whether you're a die-hard football fan or simply love gathering with friends for some good food and drinks, this sweepstakes is for you.
Imagine this – the smell of delicious food sizzling on the Blackstone griddle, the sound of laughter and cheers filling the air, and the taste of a cold, refreshing Blue Moon beer in your hand. Sounds like the perfect tailgate, doesn't it? Well, it could be yours!
By entering the Blue Moon & Blackstone: Elevate Your Tailgate Sweepstakes, you have a chance to win an epic tailgate package that will make you the envy of all your friends. Here's what's included:
1. A Blackstone Tailgater Combo: This portable griddle and grill combo is perfect for tailgating with its versatility and easy setup. Cook up your favorite burgers, hot dogs, and sides with ease, impressing everyone with your culinary skills.
2. A year's supply of Blue Moon beer: What's a tailgate without some ice-cold beer? You'll receive a year's supply of Blue Moon to keep your tailgate party going strong throughout the entire football season.
3. Tailgating essentials: From folding chairs and a portable cooler to a Bluetooth speaker and a cornhole set, we've got all your tailgating needs covered. You won't have to worry about a thing – just show up and enjoy the party.
But wait, there's more! As part of this sweepstakes, you'll also have a chance to win weekly prizes, including Blue Moon and Blackstone merchandise. Now you can represent your favorite beer and griddle brand wherever you go, showing off your tailgating pride.
So how do you enter? It's simple! Just visit our website and fill out the registration form. Make sure to provide your correct contact information so that we can reach you if you're the lucky winner. The more entries you submit, the higher your chances of winning, so don't miss out on this amazing opportunity.
But hurry, the Blue Moon & Blackstone: Elevate Your Tailgate Sweepstakes won't last forever. Make sure to register before the deadline to secure your chance of winning the ultimate tailgate package.
This sweepstakes is open to residents of the United States who are 21 years or older, so gather your friends, grab a Blue Moon, and start planning your next tailgate party. Don't settle for mediocre – elevate your tailgate experience with Blue Moon and Blackstone.
Register now for the Blue Moon & Blackstone: Elevate Your Tailgate Sweepstakes and get ready for a tailgate season like no other. Good luck!
Disclaimer: This blog post is for promotional purposes only. Please see the official rules and regulations of the sweepstakes for more information.
Claim this great opportunity today.