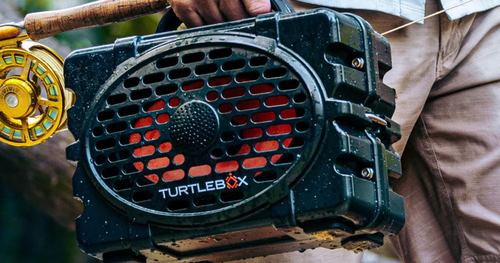 Cayman Jack Turtlebox Gen 2 Outdoor Speaker Sweepstakes
In a world filled with hustle and bustle, we all crave moments of peace and serenity. Picture yourself enjoying a beautiful sunny day, surrounded by the soothing sounds of nature, while listening to your favorite tunes in crystal-clear quality. Sounds like paradise, right? Well, with the Cayman Jack Turtlebox Gen 2 Outdoor Speaker Sweepstakes, this dream can become a reality!
We are excited to announce that we have partnered with Cayman Jack to bring you an amazing opportunity to win their latest and greatest outdoor speaker. The Turtlebox Gen 2 is the ultimate portable speaker built to withstand any adventure you choose to embark on. Whether you're hiking up a mountain, lounging on the beach, or hosting a backyard barbecue, this speaker will be your perfect companion.
So, what makes the Turtlebox Gen 2 so special? Let's dive into its impressive features. First and foremost, this speaker is designed to provide a premium audio experience in any outdoor setting. With its powerful 120dB output, you'll feel like you're at a live concert, no matter where you are. The deep bass and crisp highs will truly immerse you in your favorite music.
But what sets the Turtlebox Gen 2 apart from other outdoor speakers is its rugged durability. This speaker is built tough, with an IP67 rating, making it waterproof, dustproof, and shockproof. Whether it's a sudden rainstorm or an accidental drop, the Turtlebox Gen 2 can handle it all. You can now take your music with you on all your adventures without worrying about any damage.
Additionally, the Turtlebox Gen 2 offers versatility like no other. With Bluetooth connectivity, you can easily connect your devices and seamlessly stream your playlists. The built-in battery provides up to 50 hours of playtime, ensuring that your music never skips a beat. And if you want to take your outdoor experience to the next level, you can even pair two Turtlebox Gen 2 speakers for true stereo sound.
Now, here's the best part. Imagine having the chance to win this incredible speaker for free! The Cayman Jack Turtlebox Gen 2 Outdoor Speaker Sweepstakes is your opportunity to make this dream a reality. All you need to do is register for the sweepstakes, and you could be the lucky winner!
To enter, simply visit our website and complete the registration form. It's quick, easy, and absolutely free. Don't miss out on this chance to upgrade your outdoor adventures with the Cayman Jack Turtlebox Gen 2 Outdoor Speaker. The sweepstakes won't last forever, so make sure to register today.
Not only will you have a chance to win this amazing prize, but by registering, you'll also become a part of our exclusive community. As a member, you'll be the first to hear about future promotions, giveaways, and exciting new products. So, what are you waiting for? Take your outdoor experiences to new heights and register for the Cayman Jack Turtlebox Gen 2 Outdoor Speaker Sweepstakes now!
Don't let this opportunity slip away. Enter the sweepstakes, unlock the ultimate outdoor audio experience, and start turning heads with your Cayman Jack Turtlebox Gen 2. Good luck and happy adventures!
Claim this great opportunity today.