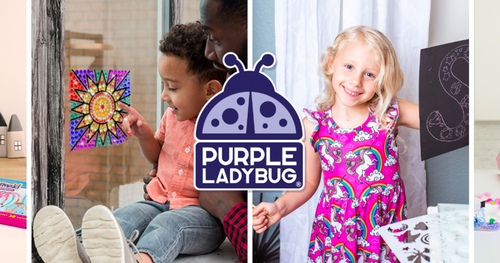 Unleash your creativity and indulge in a world of vibrant colors and sparkling crafts by hosting a Purple Ladybug Sparkling Crafts Party with Tryazon! This is an exclusive opportunity for you to be one of the selected 50 people to host an unforgettable party. Are you ready to dive into the world of arts and crafts? Let's get started!
If you're passionate about crafts and love to inspire others with your creativity, this is the perfect chance to showcase your skills. Purple Ladybug Sparkling Crafts offers an array of charming and enchanting craft kits that will ignite your imagination and bring out the artist in you. And now, Tryazon is giving you the extraordinary opportunity to share this delightful experience with your friends and family.
When you are chosen to host a Purple Ladybug Sparkling Crafts Party with Tryazon, you will receive a party pack valued at over $70. This generous pack includes a 4-pack of CharmWow kits, a magical selection of crafts that will leave you spellbound. With these kits, you can create beautiful charm bracelets that reflect your personality and style. The CharmWow kits contain everything you need – colorful beads, sparkling charms, and high-quality materials – to craft bracelets that will become instant keepsakes.
Imagine the excitement and delight on your guests' faces as they immerse themselves in a world of gleaming crafts and endless possibilities. Together, you can explore your creative talents, share crafting techniques, and create memorable pieces of jewelry that will be cherished forever.
Hosting a Purple Ladybug Sparkling Crafts Party with Tryazon is not only a chance to share your passion for crafts but also an opportunity to connect with like-minded individuals. Spark conversations about art, inspire creativity, and build lasting friendships with fellow craft enthusiasts. It's a wonderful way to create a community that values imagination, self-expression, and the joy of crafting.
So why wait? Take the leap and apply to host a Purple Ladybug Sparkling Crafts Party with Tryazon. This is your chance to bring the magic of crafts to your loved ones and embark on a creative journey together. Whether you're an experienced crafter or a beginner, everyone is welcome to join this extraordinary adventure of colors and sparkle.
Don't miss out on this incredible opportunity! Apply now to host a Purple Ladybug Sparkling Crafts Party with Tryazon and get ready to spread the joy of crafting. Unlock your creativity, inspire others, and make memories that will last a lifetime. Let the artistry within you shine and register today!
Note: Registration for this offer ends on October 2nd, 2023.
Claim this great opportunity today.