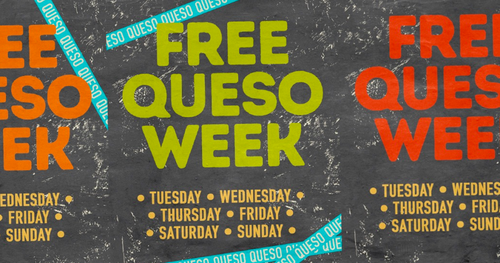 Free Queso Week at Moe's
If you love Moe's and Queso, you're going to love this! This year, Moe's is doing "Free Queso Week!" That's right! For an entire week, from September 19th-24th, 2023, Moe Rewards Members will have the opportunity to enjoy a free side of queso with each visit at participating locations. It's time to get your taste buds ready for a cheesy fiesta!
Moe's Southwest Grill is known for its fresh, flavorful, and customizable Tex-Mex cuisine. From burritos to tacos, bowls to salads, Moe's has something for everyone. And let's not forget about their famous queso! Made with a perfect blend of cheeses and savory spices, Moe's queso is the ultimate indulgence. It's creamy, it's cheesy, and it will leave you wanting more.
During Free Queso Week, Moe Rewards Members can take advantage of this delicious offer. Simply visit your nearest participating Moe's location, and with each visit, you'll receive a free side of queso. Remember, there's a limit of one free side per day, so make the most out of your visits and savor every bite!
Becoming a Moe Rewards Member is quick and easy. Just download the Moe's app or sign up on their website, and start enjoying exclusive perks and rewards. As a member, you'll earn points for every dollar you spend at Moe's. These points can be redeemed for tasty rewards, such as free meals, drinks, and even Moe's merchandise.
But wait, there's more! Moe's is notorious for their funky and fun atmosphere. With vibrant colors, quirky wall art, and friendly staff, every visit to Moe's is an experience like no other. It's the perfect place to hang out with friends or family, and what better way to elevate the experience than with free queso?
So, mark your calendars and get ready for the cheesiest week of the year. From September 19th-24th, 2023, Moe Rewards Members can enjoy a free side of queso with each visit at participating Moe's locations. Don't miss out on this incredible offer – it's an opportunity to indulge in your cheesy cravings without burning a hole in your wallet.
If you're not already a Moe Rewards Member, now is the perfect time to sign up. Head over to the Moe's website or download the app to join the Moe's family and start earning points towards mouthwatering rewards. And don't forget to spread the word to your friends and loved ones – everyone deserves to experience the joy of Moe's and free queso!
There you have it – the news you've been waiting for. Free Queso Week at Moe's is just around the corner. Be sure to mark your calendars and make the most out of this cheesy celebration. Register at Moe's today and get ready to savor the incredible flavors of their delightful queso. Trust us, your taste buds will thank you!
Claim this great opportunity today.