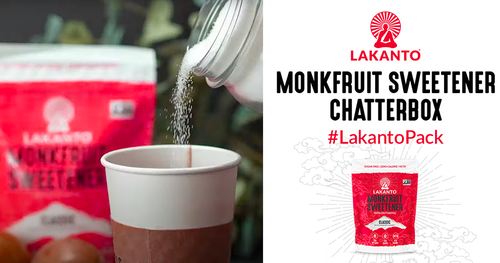 Introducing the Opportunity to Become a Lakanto Monkfruit Sweetener Chatterbox!
Are you passionate about leading a healthy lifestyle and exploring new culinary possibilities? Are you always looking for innovative and delicious ways to sweeten your favorite treats? If so, we have an exciting opportunity for you!
We are thrilled to announce that Lakanto Monkfruit Sweetener is partnering with Ripple Street to offer you a chance to become a Lakanto Monkfruit Sweetener Chatterbox. This exclusive program allows you to sample and share the goodness of Lakanto Monkfruit Sweetener with your friends, family, and community.
So, what exactly is Lakanto Monkfruit Sweetener, and why should you be excited about participating in this opportunity?
Lakanto Monkfruit Sweetener is a game-changer when it comes to a healthy and natural alternative to traditional sugar. Made from the extract of monk fruit, a small green melon-like fruit native to Southeast Asia, Lakanto Monkfruit Sweetener provides a perfect balance of sweetness without any bitter aftertaste. It contains zero calories, zero glycemic impact, and is suitable for people with diabetes, following a keto diet, or simply looking to reduce their sugar intake.
By becoming a Lakanto Monkfruit Sweetener Chatterbox, you will have the opportunity to try Lakanto's revolutionary sweetener for yourself. Once selected, you will receive an exclusive Chatterbox kit packed with a variety of Lakanto products, including their classic Monkfruit Sweetener, flavored Monkfruit Sweeteners, and even baking mixes. You will also receive informational materials, recipes, coupons, and other goodies to share with your friends and loved ones.
But the benefits don't stop there! As a Chatterbox, you will also gain access to an exclusive online community of fellow Chatterbox members. Here, you can share your experiences, swap recipe ideas, and engage with other health-conscious individuals who love the Lakanto brand. It's a fantastic opportunity to connect with like-minded people and expand your knowledge about healthy and delicious alternatives to traditional sugar.
However, please note that this amazing opportunity is not open to residents of Vermont and Wyoming. We sincerely apologize for any inconvenience this may cause, but we are actively working towards expanding to these areas in the future.
So, are you ready to take on the role of a Lakanto Monkfruit Sweetener Chatterbox? If you are passionate about leading a healthy lifestyle, enjoy spreading the word about innovative products, and love connecting with others who share the same enthusiasm, then this opportunity is perfect for you!
To become a Lakanto Monkfruit Sweetener Chatterbox, simply visit our website and fill out the application form. Tell us a little bit about yourself, why you would make a great Chatterbox, and how you plan to share the Lakanto goodness with your community. Keep in mind that we are looking for individuals who are genuinely enthusiastic about the brand and committed to sharing their experiences.
So what are you waiting for? Don't miss out on this incredible opportunity to become a Lakanto Monkfruit Sweetener Chatterbox. Apply today, and get ready to embark on a journey of discovering a healthier and sweeter way to enjoy your favorite treats.
Apply now – because life is just better with Lakanto Monkfruit Sweetener!
Claim this great opportunity today.