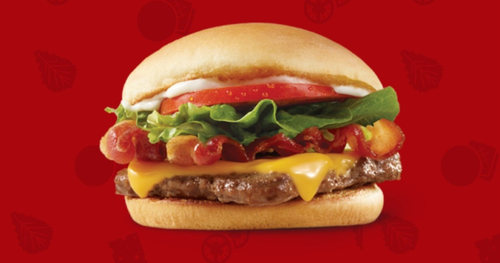 Wendy's 1¢ Junior Bacon Cheeseburgers for National Cheeseburger Day!
Who doesn't love a mouthwatering cheeseburger? It's the quintessential American meal that satisfies even the pickiest eaters. And with National Cheeseburger Day just around the corner, Wendy's is pulling out all the stops to bring you the ultimate cheeseburger celebration!
For a limited time only, Wendy's is offering 1¢ Junior Bacon Cheeseburgers at participating locations to commemorate National Cheeseburger Day. From now until September 23rd, you can sink your teeth into this delectable treat by simply downloading the Wendy's app and making any purchase.
Here's how it works: Head to the Wendy's app and navigate to the offers tab. You'll find a special discount just waiting for you – 1¢ Junior Bacon Cheeseburgers! Tap "Use Offer" and watch the magic happen. Your discount will automatically apply, and you'll be indulging in Wendy's famous Junior Bacon Cheeseburgers for mere pennies.
Just imagine sinking your teeth into a juicy beef patty, topped with sizzling bacon, melty cheese, and fresh produce, all nestled between a soft bun. It's a symphony of flavors that will leave your taste buds singing with joy. And at just one cent, even the thriftiest of diners can enjoy this culinary delight.
Wendy's has always been known for its commitment to quality ingredients, and their Junior Bacon Cheeseburgers are no exception. Each patty is made from fresh, never-frozen beef, ensuring that every bite is bursting with flavor. Add in the crispiness of the bacon, the creaminess of the cheese, and the crunch of the lettuce and tomato, and you've got a cheeseburger that's the stuff of dreams.
So, mark your calendars and get ready for a cheeseburger extravaganza on National Cheeseburger Day. Not only will you be able to satisfy your craving for a Wendy's Junior Bacon Cheeseburger, but you'll also be doing it at an unbelievable price. It's a win-win situation!
To take advantage of this incredible offer, make sure to download the Wendy's app today. The app is your ticket to exclusive deals and promotions, keeping you in the loop with all the latest offerings from Wendy's. Don't miss out on this opportunity to snag the ultimate cheeseburger deal!
With Wendy's 1¢ Junior Bacon Cheeseburgers, you can celebrate National Cheeseburger Day in style. Spread the word to your friends, family, and co-workers. Let's make this cheeseburger celebration one for the books!
So, what are you waiting for? Download the Wendy's app, make any purchase, and enjoy the 1¢ Junior Bacon Cheeseburgers while they last. Trust us, this is a deal you won't want to miss.
Don't delay – register for this promotion today and get ready to indulge in the mouthwatering goodness of Wendy's 1¢ Junior Bacon Cheeseburgers for National Cheeseburger Day!
Claim this great opportunity today.