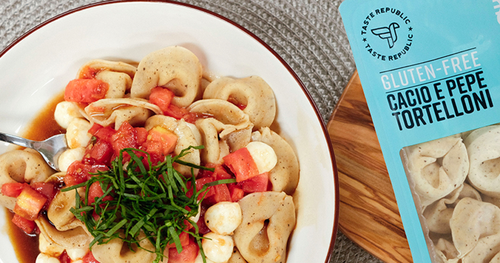 Title: Indulge in the Ultimate Foodie Experience: Register to Score a FREE Cacio e Pepe Tortelloni TryaBox with Tryazon
Introduction:
Calling all food enthusiasts and epicurean adventurers! Are you ready to embark on a culinary journey like no other? We've got an exclusive opportunity that will satisfy your cravings and elevate your taste buds to new heights. Get ready to tantalize your senses as we present the chance to win a FREE Cacio e Pepe Tortelloni TryaBox with Tryazon! This delectable pasta dish is a celebration of authentic Italian flavors, and you could be one of the lucky 100 individuals chosen to experience it firsthand!
Unveiling the Cacio e Pepe Tortelloni TryaBox:
Imagine a burst of flavors and textures that dance across your palate, leaving you craving more. The Cacio e Pepe Tortelloni TryaBox is an irresistible medley of handcrafted pasta pockets filled with a sublime blend of black pepper, Parmesan cheese, and a touch of creamy ricotta. Every bite is an indulgent treat that transports you to the heart of the Italian countryside.
The Exclusive TryaBox Experience:
Being selected for this exclusive TryaBox experience isn't just about receiving a complimentary party pack; it's an invitation to embark on a gastronomic adventure with Tryazon and Taste Republic. Picture yourself hosting a gathering of friends, surrounded by the aroma of perfectly cooked tortelloni, laughter filling the air as you bond over incredible food. It's a chance to create lasting memories and share the sheer pleasure of savoring delectable cuisine.
Inside the $20+ Party Pack:
Those who are chosen to be part of this extraordinary event will receive an exclusive party pack valued at over $20. Here's a glimpse of what you'll find:
1. Target Coupon for FREE Taste Republic Cacio e Pepe Tortelloni: As the centerpiece of this culinary celebration, you will receive a coupon to redeem your very own package of mouthwatering Cacio e Pepe Tortelloni from Taste Republic. Prepare to immerse yourself in a world of bold flavors and luxuriously creamy cheese.
How to Register:
This extraordinary opportunity is yours for the taking, but you must act swiftly! Registration ends soon, and you don't want to miss out on this once-in-a-lifetime experience. To apply for a chance to score a FREE Cacio e Pepe Tortelloni TryaBox with Tryazon, simply visit our registration page and complete the quick and straightforward form. Remember, only 100 lucky individuals will be selected, so make sure to submit your application before it's too late.
Conclusion:
Don't let this incredible opportunity slip through your fingers. Register now to seize your chance to win a FREE Cacio e Pepe Tortelloni TryaBox with Tryazon. Indulge in the flavors of Italy, delight your taste buds, and share the joy of a memorable dining experience. Hurry and apply today – this could be the start of a culinary adventure you'll never forget!
Note: Stay tuned for the upcoming dates and link to register!
Claim this great opportunity today.