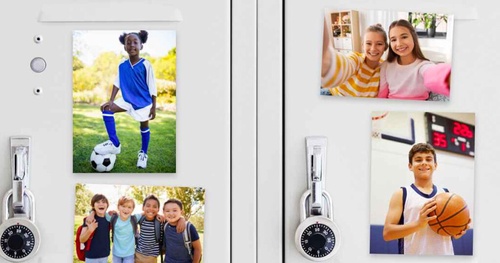 Free 5×7 Photo Magnet from Walgreens
Are you looking for a fun and personalized way to capture and display your favorite moments? Look no further! Walgreens is offering a fantastic promotion that allows you to get a FREE 5×7 photo print magnet. Yes, you read that right – it's completely FREE!
In today's digital age, it's easy for our precious memories to get lost amidst the sea of photos on our phones or computers. But with this amazing offer from Walgreens, you can bring those memories to life and have them proudly displayed on your fridge or any other magnetic surface.
The process is simple. All you have to do is head over to the Walgreens website and upload a photo that you would like to be printed onto the magnet. It could be a picture of your family, your beloved pets, a memorable vacation, or any special moment that holds a special place in your heart.
Once you have chosen your perfect photo, use the code "FALL-MAGS" at checkout, and voila! Your 5×7 photo print magnet will be absolutely free. It's as easy as pie – no catches, no hidden fees, just a stunning personalized magnet to brighten up your home.
Why choose a photo magnet, you may ask? Well, for starters, it adds a personal touch to your living space. Instead of generic decorations, you get to showcase moments that are meaningful and unique to you. Every time you pass by your fridge, you'll be reminded of the wonderful memories that your photo magnet holds.
Not only that, but a photo magnet also makes for a delightful gift. Whether it's for a loved one's birthday, a wedding anniversary, or just a "thinking of you" gesture, this small token will surely put a smile on their face. It's both sentimental and practical – a gift that can be cherished for years to come.
But don't wait too long to grab this opportunity. Remember, it's a limited-time offer, and you wouldn't want to miss out on the chance to turn your favorite memories into beautiful photo magnets.
So, what are you waiting for? Take a break from your busy schedule, dive into your photo collection, and choose that perfect picture to transform into a stunning 5×7 photo print magnet. Head over to Walgreens' website now, upload your photo, and use the code "FALL-MAGS" at checkout. Your free magnet awaits!
Capture your memories, personalize your living space, and spread the joy with a beautiful 5×7 photo print magnet from Walgreens. Don't let this amazing offer slip away – register now!
Claim this great opportunity today.