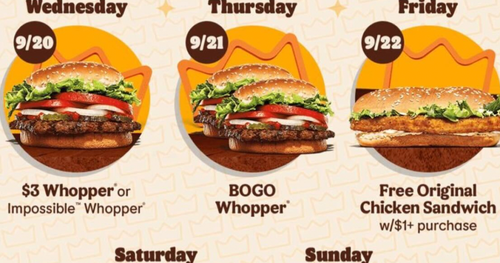 It's Perks Week at Burger King!
Calling all Burger King fans! Get ready for an exciting week filled with incredible deals and mouthwatering discounts. It's Perks Week at Burger King, and we have some amazing offers lined up just for you! Whether you're craving a Whopper, an Original Chicken Sandwich, or a delicious Family Bundle, we've got you covered.
Now, let's dive into the tantalizing deals that await you each day during Perks Week:
Wednesday, September 20th, 2023: $3.00 Whopper Deal
Craving the iconic flame-grilled goodness of a Whopper? Well, look no further! On Wednesday, September 20th, you can enjoy a Whopper for just $3.00. Sink your teeth into the juicy patty, fresh lettuce, ripe tomatoes, and creamy mayo – all nestled between two perfectly toasted sesame seed buns. It's a deal that can't be beaten!
Thursday, September 21st, 2023: BOGO Whoppers
Bring your appetite and a friend on Thursday, September 21st! Because it's Buy One, Get One Free (BOGO) day for Whoppers at Burger King. Indulge in the flame-grilled perfection of two Whoppers for the price of one. It's the perfect way to share the Burger King experience with a loved one or simply satisfy your own hunger!
Friday, September 22nd, 2023: Free Original Chicken Sandwich with $1.00+ Purchase
Kickstart your weekend with a fantastic Friday deal. On September 22nd, you can enjoy a free Original Chicken Sandwich when you make a purchase worth $1.00 or more. Sink your teeth into the crispy, golden-brown chicken fillet topped with fresh lettuce and creamy mayo. It's the ultimate Friday treat!
Saturday, September 23rd, 2023: $22.00 Family Bundle
Gather your loved ones for a delicious Saturday meal with the Burger King Family Bundle. For only $22.00, you can enjoy an incredible feast that includes Whoppers, Original Chicken Sandwiches, crispy fries, and refreshing drinks. It's an unbeatable deal that will bring smiles to everyone around the table.
Sunday, September 24th, 2023: 2x Crowns
Wrap up Perks Week in style with a fantastic Sunday offer. On September 24th, you can double your rewards with 2x Crowns. Earn even more points and unlock exclusive benefits when you join our loyalty program. It's the perfect way to make your Burger King experience even more rewarding!
Don't miss out on these incredible offers during Perks Week at Burger King. Download the Burger King app and get ready to enjoy these amazing deals! Simply register for an account in the app to unlock all of the exclusive discounts and promotions. From dollar-saving deals to delicious freebies, there's something for everyone.
So, what are you waiting for? Get your taste buds ready and join us for Perks Week at Burger King! Register now and start enjoying these incredible deals all week long. We can't wait to serve you with our delicious food and unbeatable offers.
Claim this great opportunity today.