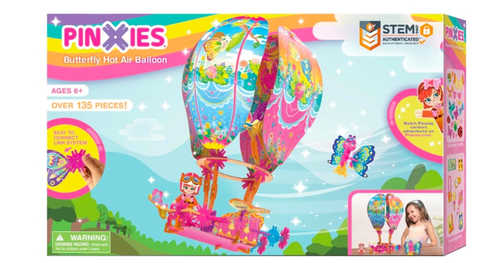 Title: Unleash Your Creativity with a Luki Lab – Pinxies Party!
Intro:
Calling all the fun-loving, creative individuals out there! Are you passionate about crafts, DIY projects, and spending quality time with friends and family? We have an exciting opportunity just for you! Tryazon, a leading company in hosting product parties, is giving you the chance to take part in an exclusive Luki Lab – Pinxies Party! Read on to discover how you can apply to be one of the lucky hosts and receive a fabulous $50+ party pack.
Unleash Your Imagination:
At the heart of every Luki Lab – Pinxies Party is the enchanting world of Pinxies. Pinxies is a unique blend of vibrant colors, imaginative storytelling, and hands-on creativity. It allows children and adults alike to explore their imagination and create beautiful, customizable characters and scenes. You'll dive into a world where butterflies come to life in hot air balloons, and unicorns roam freely in magical gardens. Together, let's embark on a journey that sparks joy and unleashes creativity!
Your Party Pack:
If selected as one of the 250 hosts, you will receive a party pack worth over $50! Delivered straight to your doorstep, this kit is designed to help you create a memorable and engaging event that will leave lasting memories with your guests. Inside your party pack, you'll find the following:
1. Pinxies Butterfly Hot Air Balloon:
Get ready to embark on a whimsical adventure with the Pinxies Butterfly Hot Air Balloon! This beautiful craft set allows you to assemble your very own colorful butterfly-shaped hot air balloon. Let your guests' creativity soar as they decorate and accessorize their balloons, bringing them to life in their own unique style.
2. Pinxies Unicorn Creation Studio:
Step into the magical realm of Pinxies with the Unicorn Creation Studio! This kit provides everything needed to create and decorate adorable unicorn characters. Craft your own unicorn buddies using high-quality materials and a sprinkle of imagination. Your guests will love customizing their unicorns with stickers, sparkling gems, and vibrant colors.
Host a Party:
Imagine hosting a party where friends and family gather to indulge in creativity, laughter, and meaningful connections. As a host, you'll have the opportunity to bring people together, inspiring them to take a break from their busy lives and embrace their artistic side. Whether you choose to host an in-person gathering or a virtual party, it's an experience that promises to be both entertaining and enlightening.
Conclusion:
Are you excited yet? We know we are! Apply now to be one of the 250 lucky hosts for a Luki Lab – Pinxies Party with Tryazon. Take this chance to dive into a world of creativity, magic, and endless possibilities. Don't miss out on the opportunity to receive a fantastic party pack worth over $50 and embark on a journey that will bring joy to you and your loved ones.
To register for this incredible promotion, visit our website and complete the simple application form. But hurry, as sign-ups end soon! We can't wait to see your creativity unfold at a Luki Lab – Pinxies Party near you!
Note: Application deadline is October 9th, 2023.
Claim this great opportunity today.