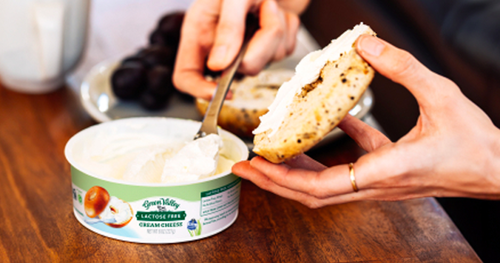 Get ready to add some deliciousness to your meals! Social Nature is offering you the chance to register and possibly receive Green Valley Lactose-Free Cream Cheese for free! Yes, you heard it right – FREE!
If you haven't heard about Social Nature, let me introduce you to this amazing platform. Social Nature is a community of natural product enthusiasts who love to try new things. They believe in the power of natural, healthier, and eco-friendly choices. And now, they are giving you the opportunity to try Green Valley Lactose-Free Cream Cheese without spending a dime!
Green Valley Cream Cheese is a game-changer for all the dairy lovers out there who struggle with lactose intolerance. Made with organic whole milk and naturally cultured ingredients, this cream cheese is free from lactose, yet has all the creamy richness you crave. Whether you want to spread it on a bagel, use it in your favorite recipes, or simply enjoy it with some crackers, Green Valley Cream Cheese is the ultimate indulgence for your taste buds.
So, how can you get your hands on this incredible freebie? It's simple!
First, if you're not already a member of Social Nature, sign up today. It's completely free and opens the door to an exciting world of natural products and exclusive offers. Create your profile and start exploring the vast array of goodies waiting for you.
Once you're all set up, search for Green Valley Lactose-Free Cream Cheese and select "I Want It!" to apply for this freebie. By doing so, you're telling Social Nature that you'd love to sample and review this amazing product.
Now, the waiting game begins! If you're selected, Social Nature will send you an email with all the details on how to claim your free Green Valley Lactose-Free Cream Cheese. Imagine receiving a package filled with deliciousness, delivered right to your doorstep. Exciting, isn't it?
But wait, there's more! Social Nature encourages its members to share their experiences with the products they receive. Once you've tried the Green Valley Cream Cheese, take a moment to write a review and let the world know how amazing it is. Your feedback will not only help other consumers make informed decisions but also reward you with gratitude from the Social Nature community.
So, what are you waiting for? Don't miss out on this fantastic opportunity to enjoy Green Valley Lactose-Free Cream Cheese for free. Sign up for Social Nature, select "I Want It!" for this incredible offer, and keep an eye on your email for the exciting news. Trust us, this is a freebie you don't want to miss!
Join Social Nature today and start your journey towards a world of natural, healthier, and delicious products. Happy sampling!
Claim this great opportunity today.