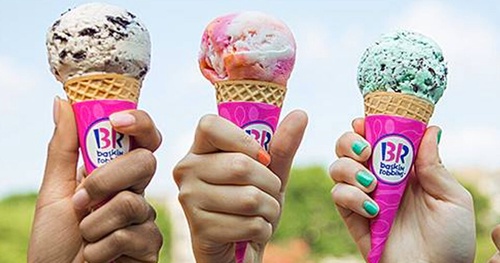 BOGO Free Baskin Robbins
Who doesn't love a sweet treat, especially when it's free? Get ready to indulge your taste buds because National Ice Cream Cone Day is just around the corner on September 22nd! And guess what? Baskin Robbins is celebrating this joyous day by offering a fabulous BOGO Free Cones promotion! Yes, you read that right – buy one, get one free!
From September 22nd through September 30th, you and a friend can head over to your nearest Baskin Robbins location and enjoy the irresistible flavors of their world-famous ice cream without putting a dent in your wallet. It's the perfect excuse to treat yourself and spend some quality time with a loved one, all while satisfying your sweet tooth!
Now, I know what you might be thinking – how can I find a Baskin Robbins location near me? Don't worry, I've got you covered! Simply visit the Baskin Robbins website and use their handy store locator tool to find the nearest shop in your area. With over 8,000 locations worldwide, you're bound to find one just around the corner!
But wait, it gets even better! Baskin Robbins has an awesome app that you can download for even more perks and exclusive offers. By downloading the app, you'll have access to special discounts, personalized deals, and the latest updates on new flavors and menu items. It's like having a little ice cream parlor in the palm of your hand!
Now, I'm sure you're wondering how you can stay up-to-date with all the hottest deals, sweepstakes, and freebies. Well, look no further! I invite you to join my Telegram Group, where I post tons of amazing giveaways, limited-time promotions, and fantastic opportunities to save money. You'll never miss another hot run deal or sweet freebie again!
So mark your calendars, set a reminder, and get ready for a week of pure ice cream bliss! National Ice Cream Cone Day only comes around once a year, and you certainly don't want to miss out on this incredible BOGO Free Baskin Robbins promotion. It's the perfect chance to share a delicious treat with a friend and create unforgettable memories.
Don't wait any longer – grab your best buddy and head straight to Baskin Robbins from September 22nd to September 30th to indulge in the ultimate BOGO Free Cones experience. Your taste buds will thank you, and your wallet will too!
Can't wait to see you there, ice cream lovers!
Claim this great opportunity today.