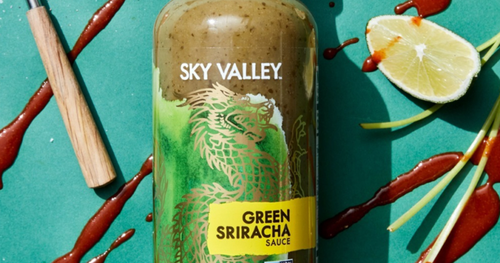 Possible Free Sky Valley Green Sriracha with Social Nature
Are you a fan of adding an extra kick to your meals? Well, we have some exciting news for you! We are offering you a chance to get your hands on a free bottle of Sky Valley Green Sriracha through Social Nature. Yes, you read it right – a FREE bottle of this deliciously fiery condiment could soon be yours!
If you haven't heard about Social Nature yet, let us introduce you to this fantastic platform. Social Nature is an online community that connects brands with consumers who are interested in trying new, natural, and sustainable products. It's a place where you can discover unique products, share your experiences, and even score some freebies along the way!
Now, let's talk about this mouthwatering offer. Can you imagine the perfect blend of heat and flavor, all packed into one bottle? Sky Valley Green Sriracha delivers just that! Made with fresh jalapeno peppers and a combination of aromatic spices, this sriracha sauce boasts a vibrant green color and a tantalizing taste that will elevate any dish.
To get your chance at receiving a free bottle of Sky Valley Green Sriracha, here's what you need to do:
1. If you're not already a member of Social Nature, sign up for a free account. It only takes a few minutes, and you'll open the door to a world of exciting products to try.
2. Once you're signed up, navigate to the Sky Valley Green Sriracha offer page. You'll find it among the myriad of product options available on Social Nature.
3. Next, click on the big, bold "I Want It" button. By selecting this option, you're expressing your interest in trying out the Sky Valley Green Sriracha.
That's it! Now, all you have to do is wait for an email notification from Social Nature if you're selected for this fantastic freebie opportunity. They'll contact you with all the details to claim your free bottle of Sky Valley Green Sriracha.
But wait, there's more! Social Nature doesn't just stop at delivering free products to your doorstep. They value your opinion and encourage you to share your feedback on the products you try. It's an excellent opportunity to have your voice heard by brands and fellow consumers alike.
So, don't miss out on this incredible chance to elevate your meals with the delectable taste of Sky Valley Green Sriracha. Sign up for Social Nature, select "I Want It," and keep an eye on your email for that magical notification.
Get ready to unleash a burst of flavor like no other and register today for the possibility of scoring a free bottle of Sky Valley Green Sriracha!
Claim this great opportunity today.