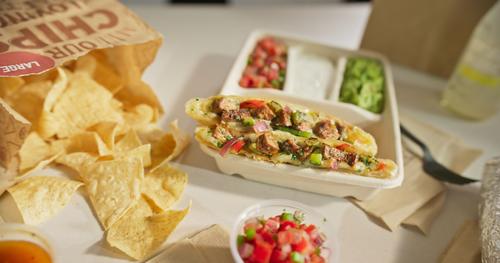 Title: Celebrate National Quesadilla Day with a Delicious Freebie from Chipotle and DoorDash!
Introduction:
Calling all food lovers, Chipotle aficionados, and deal hunters! Brace yourself for an incredibly mouthwatering offer that will make your taste buds dance with joy. In celebration of National Quesadilla Day, Chipotle and DoorDash have joined forces to bring you an irresistible promotion. Get ready to sink your teeth into a free, delectable Hand-Crafted Quesadilla from Chipotle, exclusively through DoorDash. But hurry, this offer is limited to the first 20,000 savvy individuals who seize the opportunity!
Why You Will Love This Offer:
If you're a fan of Chipotle's delectable flavors and crave some Mexican-inspired goodness, then this offer is tailor-made for you. Chipotle's Hand-Crafted Quesadillas are revered for their perfect blend of savory fillings, melted cheese, and the delightful crunch of a perfectly toasted tortilla. It's a delightful culinary experience that will satisfy your cravings and leave you yearning for more.
The Partnership with DoorDash:
To make things even more convenient, Chipotle has teamed up with DoorDash to bring this tantalizing offer directly to your doorstep. No need to leave the comfort of your home or office – simply place an order on DoorDash with a minimum value of $25 or more, and you'll be eligible to receive your free Chipotle Hand-Crafted Quesadilla. It's the ultimate fusion of convenience, deliciousness, and unbeatable value.
The DoorDash DashPass Advantage:
Are you a DashPass member on DoorDash? If so, you're in for a treat! This exclusive promotion is reserved just for you. DashPass membership unlocks a world of benefits, including unlimited free delivery fees on eligible orders over $12, reduced service fees, and now, access to a fantastic free quesadilla from Chipotle. Not a DashPass member yet? Don't fret – you can sign up today and seize this incredible opportunity!
How to Get Your Free Chipotle Quesadilla:
The process is simple and hassle-free! On National Quesadilla Day, be sure to follow TikTok creator Alexis Frost, who will reveal the exclusive promo code on her channel. Once you have the code in hand, head over to DoorDash, make a minimum purchase of $25 or more, and apply the code during checkout. Voila! Your free Hand-Crafted Quesadilla will be added to your order, ready to be devoured at your convenience.
Don't Miss Out – Register Now!
With only 20,000 free quesadillas up for grabs, time is of the essence. Mark your calendars, set your alarms, and make sure you're among the first to snag this exceptional offer. Imagine sinking your teeth into a hot, cheese-filled quesadilla, crafted with love by Chipotle. It's a taste experience you won't want to miss!
So, get ready to treat yourself to a mouthwatering delight – a free Chipotle Hand-Crafted Quesadilla from DoorDash, exclusively available to the first lucky 20,000 individuals. Stay tuned for the promo code reveal on Alexis Frost's TikTok channel and be prepared to indulge in a culinary adventure like no other. This National Quesadilla Day, make sure to celebrate in style and register now!
Claim this great opportunity today.