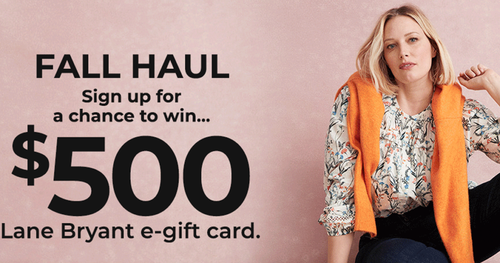 Title: Exciting News: Lane Bryant Quikly Giveaway is Here!
Introduction:
Hey there, fashionistas! We have some exciting news for you today: Lane Bryant is hosting an incredible Quikly Giveaway, and you definitely don't want to miss out! So, grab your favorite mug of coffee or tea, sit back, and allow us to fill you in on all the details.
The Lane Bryant Quikly Giveaway:
Lane Bryant has always been synonymous with fashion-forward clothing and empowering women of all shapes and sizes. And now, they're taking it up a notch, giving you the chance to win one of 18 amazing gift cards through their Quikly Giveaway!
Here's how it works: Lane Bryant will be sending out Quikly text links at approximately 2pm EST. These links will provide you with the opportunity to be among the fastest people to grab one of those coveted gift cards. However, please note that you must have previously signed up to participate, so make sure you've registered!
Why Should You Participate?
If you're wondering why you should get involved in the Lane Bryant Quikly Giveaway, we have some compelling reasons for you:
1. Exclusive Lane Bryant Shopping Experience: Imagine walking into Lane Bryant armed with a gift card, ready to shop until you drop! This giveaway gives you the chance to enhance your wardrobe with fabulous Lane Bryant clothing and accessories.
2. Empowering Fashion for Everyone: Lane Bryant is known for its inclusive sizing and body-positive approach. By participating in this giveaway, you're not only rewarding yourself with a shopping spree, but you're also supporting a brand that believes in empowering women of all shapes and sizes.
3. Extraordinary Value: The 18 gift cards up for grabs are no ordinary prizes. Whether you're treating yourself to a well-deserved shopping spree, buying a special gift for someone else, or simply stocking up on essentials, these gift cards hold incredible value that will help stretch your fashion budget.
How to Get Ready:
To make sure you don't miss out on this amazing opportunity, we have some tips to help you get ready:
1. Set an Alarm: The Quikly text links will be sent around 2pm EST, so set a reminder on your phone or computer to ensure you're ready and waiting.
2. Prioritize Speed: Remember, only the fastest participants will secure one of the 18 gift cards. So, have your internet browser ready, keep your fingers nimble, and react quickly when that coveted text link arrives.
3. Be Prepared: Check that you've signed up for the giveaway to ensure you're eligible for participation. If you haven't, it's not too late – simply head to Lane Bryant's website and register now!
Conclusion:
Ladies, this is your chance to grab some incredible fashion deals and be a part of Lane Bryant's empowering community. The Lane Bryant Quikly Giveaway is on its way, so get ready to shop 'til you drop at one of the leading fashion retailers in the industry.
Remember, only the fastest participants will be able to snag one of the 18 gift cards up for grabs. So, set your alarm, perfect your typing skills, and get ready to secure your chance at a shopping spree!
Don't miss out on this opportunity – register now and make sure you're on the list to receive those Quikly text links. The Lane Bryant Quikly Giveaway is about to begin, and you're invited to be a part of it!
Claim this great opportunity today.