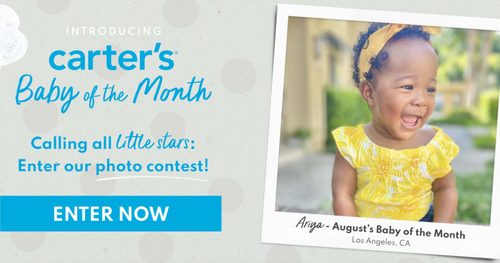 Carter's Baby of the Month Contest – A Chance to Celebrate Your Little Star!
Are you a proud parent of an adorable baby? Do you find yourself constantly snapping pictures of your little one's cute smiles and precious moments? If so, we have an exciting opportunity for you to showcase your bundle of joy and win amazing prizes in the process!
Introducing the Carter's Baby of the Month Contest, an incredible chance for your little star to shine and steal the hearts of thousands. Carter's, the renowned and trusted brand for baby and kids clothing, is organizing this contest to celebrate the beauty and charm of every baby out there.
Why should you enter? Well, apart from the undeniable bragging rights that come with having the cutest baby, there are some fabulous prizes up for grabs! The Carter's Baby of the Month will receive an exclusive photoshoot with a professional photographer, capturing those precious early memories forever. In addition, the winner will also receive a generous supply of Carter's clothing, ensuring your little one is always dressed in the latest and most stylish designs.
But wait, there's more! Every month, Carter's will select three lucky runners-up who will each receive a special Carter's gift card. So, even if your baby doesn't claim the title of Baby of the Month, there's still a chance to walk away with some fantastic prizes!
Wondering how to enter? It's simple! All you need to do is visit our website and fill out the registration form with your baby's adorable picture, along with some basic information. Once your submission is complete, you're officially in the running for the title of Carter's Baby of the Month!
Once the submission period ends, the judging panel, consisting of Carter's representatives and renowned photographers, will carefully review all the entries to select the finalists. The chosen babies will then be showcased on Carter's social media platforms, where you, your friends, and family can vote for your little one and help them claim the ultimate title.
Remember, this contest is not just about winning the title; it's also about celebrating the beauty and joy that babies bring to our lives. So, even if your baby doesn't win, the experience itself is priceless, as you get to cherish those precious memories and connect with other proud parents who are going through the same magical journey.
So, what are you waiting for? Don't let this amazing opportunity slip through your fingers. Head over to our website today and register your little star for the Carter's Baby of the Month Contest. It's time to show the world just how adorable and special your baby really is!
We can't wait to see all the beautiful entries and witness the love and excitement that this contest will bring. Register now, spread the word, and start counting down the days until your little one's shining moment!
*Terms and conditions apply. Visit our website for more details and to register.
Claim this great opportunity today.